A Short History of Electric Cars
With ever-rising gas prices and greater concerns about our environment, electric and hy-brid motor vehicles are gaining popularity. We may think of these automobiles as a recent development but, earlier this year, Design News posted an interesting slideshow of the history of electric cars which were designed in the late Nineteenth Century and throughout the Twentieth.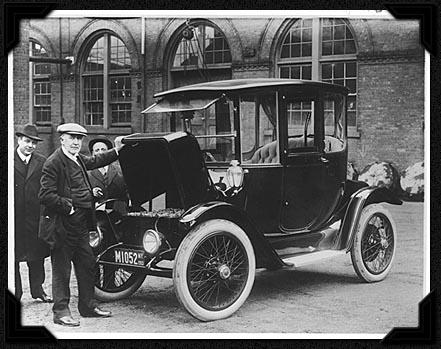 Thomas Edison (left) and an electric automobile that used one of his nickel-iron batteries (c. 1910). Source.
Pictured here we see that even American inventor Thomas Edison had designed a version of an electric car. In a 1911 interview with the New York Times, Edison stated that the vehicle's battery "is simple, light, easy to take care of, and far more efficient than the old lead battery. It has none of the disadvantages of the latter, which resulted in bringing electric transportation into such disfavor abroad."
Norman Bel Geddes: Designer of Tomorrow
Norman Bel Geddes was one of the leading designers of the first half of the twentieth century, yet he is largely forgotten today. The designer's fame seems to have been eclipsed by that of his daughter, actress Barbara Bel Geddes.1
Perhaps the most prestigious and best-remembered of Bel Geddes's projects was the General Motors Pavilion, "Futurama," designed for the 1939 New York World's Fair. Bel Geddes began his career as a theatrical designer, so it is fitting that "Futurama" like most of the designer's work, was ephemeral and exists now only in photographs or on film.1 Why should Bel Geddes be remembered? Is his work still considered relevant today?
Bel Geddes's Set Design & Marriage
The designer was born Norman Melancton Geddes in Adrian, MI in 1893, and he changed his last name in 1916 when he married writer Helen Belle Sneider. The new surname was a combination of her middle name "Belle" and his last name. Bel Geddes "studied briefly at Cleveland Institute of Art and the Art Institute of Chicago"2 but never graduated from either institution.
 In 1916 Bel Geddes landed his first major design job as set designer for Aline Barnsdall's "Little Theatre" in Los Angeles. (Miss Barnsdall is also remembered as one of Frank Lloyd Wright's influential California clients.) In 1918 Bel Geddes went to New York and worked for a season designing sets for the Metropolitan Opera, and after that he was set designer for several Broadway productions.3

Norman Bel Geddes designing the Macy's Christmas Parade Punch and Judy float, 1926. Photo credit: The Edith Lutyens and Norman Bel Geddes Foundation / Harry Ransom Center
Source
In the mid-1920s Bel Geddes designed film sets for Cecile B. DeMille's "Feet of Clay" (1924) and for D.W. Griffith's "The Sorrows of Satan" (1925). Bel Geddes and De Mille would work again towards the end of their careers in 1952 when Bel Geddes designed the big top for De Mille's production of "The Greatest Show on Earth."4
The Earliest Television in Great Britain
Thank you to the British National Media Museum for posting this photo of one of the highlights of their collections: a Baird Model B Televisor from 1928.
According to the Baird Televisor site, the first successful demonstration of the device happened on January 26, 1926, and the first image transmitted was that of a head of a ventriloquist's doll. In 1928, the year that the model below was manufactured, Baird conducted a demonstration of "Stereoscopic" television.

John Logie Baird, Baird Model B Televisor (1928). Photo credit: Copyright British National Media Museum.
Source: http://nationalmediamuseumblog.files.wordpress.com/2013/06/bairdmodelbtelevisor.jpg?w=547
For more on John Logie Baird and his televisors visit the British National Media Museum blog and bairdtelevisor.com.
Fifty Years of the Instamatic Camera
The Kodak Instamatic camera celebrates it's 50th anniversary this year. Introduced in March 1963, the Instamatic revolutionized amateur photography in its day with it's four shot flashcube and instant loading film cartridge. The Instamatic influenced many competitors' products for years.
According to the
George Eastman House
blog, "It was introduced at a time when camera innovation was dominated by German and Japanese companies, proving American engineering could still produce competitive products."
Getting There: How Design Influences Travel

Arthur Radebaugh, Advertisement for Bohn Aluminum and Brass Corporation (circa 1940s).
Source: http://designmuseumboston.org/images/exhibits/gettingthere/gallery/gettingthere_gal-10.jpghttp://photo-muse.blogspot.com/
"Getting There: How Design Influences Travel" is an exhibition organized by the Design Museum of Boston and aptly located in Terminal E of Boston's Logan Airport; the show explores the influence of design on the travel industry.
According to the Design Museum of Boston Web site the exhibition features "Drawings, models, and prototypes from design firms such as Bose, Samsonite, Teague, Two Twelve, and IDEO, … projects that have creatively addressed design challenges posed by the constraints of human travel."
The show is ongoing and free to the public.
A Dreamhouse for Architect Barbie
Ting Li & Maja Paklar, A Dream House for Architect Barbie (2012).
Source: http://observatory.designobserver.com/media/images/ArchitectBarbie_dreamhouse_2_525.jpg
Congratulations go out to Ting Li and Maja Paklar, both recent graduates of the Harvard Graduate School of Design, for their winning entry in the American Institute of Architects' Architect Barbie Dream House Competition (pictured above).
Barbie's house features a "multilevel cantilevered, green-roofed, bamboo-floored, local-sourced, solar-paneled palazzo with spaces for entertainment, exercise and meditation1" as well as a digitally-controlled tower closet! Read more on Design Observer.
Reference
1. Levinson, N. (August 8, 2012). A Dream House for Architect Barbie. The Design Observer Group. http://observatory.designobserver.com/feature/a-dream-house-for-architect-barbie/29308/
Early Laptop Designer William "Bill" Moggridge 1943-2012
If you've ever spent any time working on a laptop computer, you've had interaction with design influenced by industrial designer, William "Bill" Moggridge. In 1979 Moggridge was approached by technology firm Grid Systems to design a portable computer small enough to fit in a briefcase. The computer, called The Compass, sold in the early 1980s for about $8000.1
Earlier, in the 1970s, Moggridge designed a precursor to the desktop computer that was about the size of a sewing machine. This design prototype, however, was never manufactured.1
"Moggridge later went on to co-found design company IDEO in 1991 and took over as director of the Cooper-Hewitt National Design Museum, a wing of the Smithsonian Institute, in January 2010," 2 a position he held until his death on September 8, 2012.2
References
Kaufman, L. (September 9, 2012). William Moggridge, Designer and Laptop Pioneer, Dies at 69. The New York Times. http://www.nytimes.com/2012/09/10/technology/william-moggridge-laptop-pioneer-dies-at-69.html
Knight, S. (September 10, 2012).Early laptop designer Bill Moggridge dead at age 69. Techspot.com. http://www.techspot.com/news/50099-early-laptop-designer-bill-moggridge-dead-at-age-69.html

William Moggridge for Grid Systems, The Compass Computer, (1979). Photo credit: Dan Fogg, Cooper Hewitt National Design Museum.
Source: http://graphics8.nytimes.com/images/2012/09/10/business/moggridge-obit-2/moggridge-obit-2-popup.jpg
Century of the Child: Growing by Design, 1900 – 2000
According the Museum of Modern Art, their current exhibit, Century of the Child: Growing by Design, 1900–2000, "is the first large-scale overview of the modernist preoccupation with children and childhood as a paradigm for progressive design thinking." Juliet Kinchin and Aidan O'Connor, who curated  "Counter Space: Design and the Modern Kitchen" in 2010 also curated this exhibit which includes over 500 toys from both American and international designers.1
Watch artist Peter Nikl discuss Cold War-era toys designed by his mother, Libuše Niklová.
Century of the Child: Growing by Design, 1900–2000 is running now through November 5, 2012 at the Museum of Modern Art in New York City.
John Rideout and Harold Van Doren, Skippy-Racer Scooter (circa 1933).
Source: http://graphics8.nytimes.com/images/2012/07/23/t-magazine/23child-lange-slide-5C1A/23child-lange-slide-5C1A-jumbo.jpg
Reference
1. Lange. A. (23 July, 2012). "Serious Play | Century of the Child." New York Times Magazine. http://tmagazine.blogs.nytimes.com/2012/07/23/serious-play-century-of-the-child/
Jean Prouvé Mid-Century Furnishings
Recently Mid-centuria ran a post on a fabulous contemporary home that features furnishings created by influential French designer, Jean Prouvé. Originally trained as a blacksmith, Prouvé established his design studio in 1931 and his own furniture factory in 1936. An industry pioneer, he introduced steel, aluminum and arc welding to furniture design.1
For more on Prouvé, visit the Jean Prouvé Museum and Design Museum.
Reference
Design Museum, (2007). Jean Prouvé French engineer and designer (1901-1984). http://designmuseum.org/design/jean-prouve
Jean Prouvé, Cité Lounge Chair, circa 1930.
Source: http://3.bp.blogspot.com/-PQ7sCSWs02o/T8zkQPSudjI/AAAAAAAAFMg/VBnSriDzT4w/s1600/Vitra_Cite_Studio+Shot.jpg