The Eames' Home of Steel and Glass, 1950
Thank you to Aqua-Velvet for posting these gorgeous images taken by LIFE magazine photographer Peter Stackpole for a short print feature entitled, "A Designer's Home of His Own: Charles Eames builds a home of steel and glass." The photos were originally published on September 11, 1950. 
View the rest of the images and the Aqua-Velvet post.
View more images of Charles and Ray Eames on Google Archives.

Peter Stackpole. Photograph of interior of the home of Charles and Ray Eames, (1950).
Source: http://aqua-velvet.com/blog/images/2012/04_apr/19_eames11.jpg

Peter Stackpole, Photograph of Ray Eames (1950).
Source: http://aqua-velvet.com/blog/images/2012/04_apr/19_eames7.jpg.
Harry Bertoia: Sound + Vision
A tiny gallery off of the first floor main gallery of the Herbert F. Johnson Museum of Art on the campus of Cornell University in Ithaca, New York houses a unique exhibition of mid-Twentieth century sculpture, metalwork, tonal recordings and furniture design. At first glance the viewer might think that the show was a collection of art by of a group of extremely talented individuals, but he or she would be mistaken. The exhibition is work of one artist — Harry Bertoia. It is also somewhat remarkable that such a range of work had been created by one artist, an artist who for much of his career was a consummate team player.

Harry Bertoia in his studio, circa 1960, photographer unknown.
Source: http://www.hbrp.net/HBRP/pics/bertoiainstudioSM.jpg
Harry Bertoia's Early Life
Arieto "Harry" Bertoia was born in 1915 "in the small village of San Lorenzo, Friuli, Italy, about 50 miles north of Venice"1. He came to the United States with his father in 1930 to visit his older brother who was living in Detroit, Michigan. Young Harry stayed on to attend technical high school and attended the Art School of Detroit Society of the Arts on an academic scholarship.2
Bertoia's Time at Cranbrook Academy
In 1937 Bertoia began studies at the Cranbrook Academy of Art,2 and by 1939 was invited by Cranbrook's director, architect Eliel Saarinen, to become the school's "instructor of metal work"1. At Cranbook Bertoia met influential artists and designers that he would soon collaborate with: Saarinen's son, architect and designer Eero, as well as legendary furniture designers Charles and Ray Eames2.
Working with Charles and Ray Eames
In 1940 Bertoia assisted Charles Eames and Eero Saarinen in preparing their entries for the Museum of Modern Art design competition. While both Eames and Saarinen won awards in the competition, Bertoia was never credited for his work. Later Bertoia traveled to California to work with the Eameses on the metal structure for their iconic Eames Chair2. Bertoia's "innovative chair solutions made [mass] production possible"1. Again his contributions went unrecognized2.

Harry Bertoia, Diamond Lounge Chair (1952).
Jean Prouvé Mid-Century Furnishings
Recently Mid-centuria ran a post on a fabulous contemporary home that features furnishings created by influential French designer, Jean Prouvé. Originally trained as a blacksmith, Prouvé established his design studio in 1931 and his own furniture factory in 1936. An industry pioneer, he introduced steel, aluminum and arc welding to furniture design.1
For more on Prouvé, visit the Jean Prouvé Museum and Design Museum.
Reference
Design Museum, (2007). Jean Prouvé French engineer and designer (1901-1984). http://designmuseum.org/design/jean-prouve
Jean Prouvé, Cité Lounge Chair, circa 1930.
Source: http://3.bp.blogspot.com/-PQ7sCSWs02o/T8zkQPSudjI/AAAAAAAAFMg/VBnSriDzT4w/s1600/Vitra_Cite_Studio+Shot.jpg
Arne Vodder (1926-2009)
Thank you to Mid-Centuria for bringing to our attention the work of Danish designer and architect Arne Vodder (1926-2009). Vodder studied with furniture designer Finn Juhl; the two were good friends and later became business partners. Vodder designed furniture for a number of Danish companies but is best known for the work he did for Sibast Furniture in the 1950-1960's.  The teak and rosewood sideboards he designed during this period are iconic pieces of mid-century modern furniture.1

Visit Mid-centuria to view more of Vodder's work.
Arne Vodder, Credenza (circa late 1950s).
Source: http://3.bp.blogspot.com/-2Ev7Zn9UqvU/T05I2Kw_MjI/AAAAAAAAE_M/-x7go1w3jIE/s640/Arne-vodder-credenza-sideboard-tambour-BR.jpg
Reference
1. Deconet, (2011). Arne Vodder. http://www.deconet.com/decopedia/designer/1239/Arne_Vodder#

California Design, 1930-1965: Living in a Modern Way
"California Design, 1930-1965: Living in a Modern Way" is on exhibit now through June 3, 2012 at the Los Angeles County Museum of Art. This exhibit features more than 300 items including furniture, ceramics, metalwork, fashion and textiles, as well as industrial and graphic design. It is the first major show to examine the influence of California designers on mid-Twentieth century product design.
Christopher Hawthorne in his review of  "California Design" writes:
"California modernism was a distinct style from its earliest years. It traded the social conscience of the Bauhaus for an approach to design that was not only 'looser, warmer' and often 'ad hoc,' as Kaplan puts it in the catalog, and more expressive of local character, but also entirely comfortable with the notion of salesmanship and the realities of commerce. Indeed, of the exhibition's four thematic sections, the one on 'Selling California Modern' arguably makes up the heart of the show. The other sections are 'Shaping,' on the early years of California modernism; 'Making,' on materials and fabrication; and 'Living,' on housing, furnishings and the indoor-outdoor postwar aesthetic made possible by a benign climate." Read the entire review.
More information on "California Design, 1930-1965: Living in a Modern Way" on the LACMA site.
Read our past post on photographer Julius Schulman and California architecture.
Julius Shulman (1910–2009), photographer, Pierre Koenig, architect, Stahl House (Case Study House #22), Los Angeles, 1960 © J. Paul Getty Trust. Used with permission. Julius Shulman Photography Archive, Research Library, Getty Research Institute (2004.R.10).
Source: http://www.lacma.org/sites/default/files/imagecache/Exhibition_Main/image/Shulman.jpg

The American Look
"The American Look: Fashions and Furnishings of the Arts and Crafts Era" features selections from the Sue Genet Costume Collection at Syracuse University and from Dalton's American Decorative Arts. The show opens at the Warehouse Gallery in Syracuse, NY on October 15, 2011 and runs through November 11, 2011.
Dieter Rams: Good design makes a product useful
2. Good design makes a product useful
A product is bought to be used. It has to satisfy certain criteria, not only functional, but also psychological and aesthetic. Good design emphasizes the usefulness of a product while disregarding anything that could possibly detract from it.
Dieter Rams and Thomas Merkel, sdr+ Low Table Program 010, (2001)
Source: http://www.dailyicon.net/magazine/wp-content/uploads/2008/06/low01dailyicon.jpg
See more work by Rams' collaborator, Thomas Merkel at Stylepark.
Arts and Crafts Shopmarks Directory
The Arts and Crafts Collector is a Web site run by Bruce Johnson, author, columnist, and Director of the National Arts and Crafts Conference at the Grove Park Inn in Asheville, NC. If you are a die-hard Arts and Crafts Movement aficionado or only possess a casual interest in the artifacts of the Movement, you owe it to yourself to visit his site.
Among the many resources available to collectors and researchers is the incredible shopmarks directory. The online resource includes images of shopmarks and information on nearly 500 furniture manufacturers, metal shops and potteries. Mr. Johnson is in the process of collecting, organizing and identifying numerous Arts & Crafts shopmarks. Johnson's goal is a complete record of every Arts & Crafts company. If you have information on lesser-known Arts & Crafts firms he could use your help. Visit The Arts and Crafts Collector for details.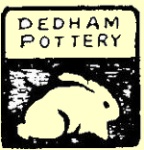 Dedham Pottery backstamp (1896-1943). Dedham, MA.
Source: http://www.brothers-handmade.com/images/Dedham-Pottery_1896-1943.jpg
On Becoming an Artist: Isamu Noguchi
"Everything is sculpture.  Any material, any idea without hindrance born into space, I consider sculpture." — Isamu Noguchi
Isamu Noguchi (1904-1988) was one of the Twentieth Century's most important and influential sculptors. He "believed that through sculpture and architecture, one could better understand the struggle with nature"(1). Noguchi's father was a Japanese poet and his mother, an American writer. Although the artist was born in Los Angeles (2), he spent much of his childhood in Japan. He returned to the United States as a teenager in order to attend boarding school (3,4). Noguchi would remain an "internationalist, [and travel] extensively throughout his life"(3). 
Isamu Noguchi, Long Island City Studio with Akari sculptures, 1960s.
Source: © Isamu Noguchi Foundation Inc, New York courtesy designmuseum, London http://www.designboom.com/portrait/noguchi/bio2.jpg

As a young man, Noguchi began studying medicine at Columbia University. During this period he was also enrolled in sculpture classes and soon "realized that art, not medicine, was his true calling"(1). "When he was only twenty Noguchi had his first exhibition in New York City"(5). In 1927, "he received a Guggenheim Fellowship…that allowed him at age twenty-three to apprentice under Constantin Brancusi"(5). Brancusi's influence is evident in Noguchi's work throughout his prolific career.
Two years later, Noguchi was to meet another individual who would have a profound effect upon his life, "the visionary architect, futurist, and poet"(5), Buckminster Fuller. Fuller's "utopian outlook greatly influenced Noguchi"(5) and the two became life-long friends. Fuller's ideas, no doubt, had an impact on Noguchi's "increased social awareness"(5) that led the sculptor to establish "Nisei Writers and Artists Mobilization for Democracy, a group dedicated to raising awareness of the patriotism of Japanese-Americans"(3) in 1942. That same year, Noguchi endured "a voluntary stay in a Japanese interment camp for several months"(5). After the War, the artist returned to Japan to explore "the wrenching issues raised during the previous years. His ideas and feelings are reflected in his work of the time"(3).

Stage set elements from Herodiade (1944) choreographed by Martha Graham in Robert Wilson's installation of Isamu Noguchi: Sculptural Design at the Design Museum, 2001
Source: http://designmuseum.org/media/item/4000/-1/12_10Lg.jpg
Dancer and choreographer Martha Graham is another figure who greatly influenced Noguchi's career. "As early as 1935"(3) he designed sets for her company and collaborated with other "dancers/choreographers Merce Cunningham, Erick Hawkins, and George Balanchine [as well as] composer John Cage"(3). According to scholar Nancy Grove, with work such as this "Noguchi challenged Modernist prohibitions against commerce and genre-crossing"(2).
Isamu Noguchi. Akari Lamps, 1951.
Source:  http://blog.dwr.com/.a/6a00d8345173e769e20133f5e68b9a970b-450wi
Noguchi would blur the line between pure art and functional design with his iconic creation Radio Nurse for Zenith Radio Corporation in 1937 (2). In the 1940s George Nelson, design director for Herman Miller, wrote an article called "How to Make a Table" using one of Noguchi's designs as an illustration for the piece. This design eventually "became his famous 'coffee table,' originally introduced in 1947 and reissued in 1984"(6).  Noguchi's 1951 Akari Lamps of "paper, bamboo, and metal"(2) borrowed their structure from traditional Japanese shoji lamps, yet these lamps' "asymmetrical shapes"(4) were inspired by Brancusi's work (4).
In the 1960s Noguchi and architect Louis Kahn collaborated on a design for a playground (3). "The Adele Levy Memorial Playground, intended to occupy eight acres of New York City's Riverside Park"(7) was one of a series of "playscapes" the sculptor designed in which "the standard swing, slide, and climbing structure"(7) was replaced by "an array of geometric shapes"(7) that children could climb and play upon. Sadly, the project was eventually rejected by city officials and never realized.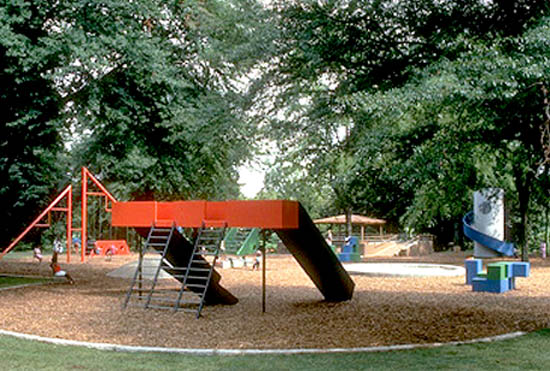 Isamu Noguchi. Playscapes (1975-76). Piedmont Park, Atlanta. Photo by Isamu Noguchi
Source:  http://www.artnet.com/magazine/features/stern/Images/stern1-27-8.jpg
"Noguchi died in 1988;…half his ashes are buried in the Noguchi Museum garden, the rest at his compound in Japan. In life as in death, Noguchi honored both his Japanese and American heritage"(4). For more insight on Isamu Noguchi's his life and work and the remarkable people who shaped the artist's career, visit  "On Becoming an Artist: Isamu Noguchi and His Contemporaries, 1922–1960." The exhibition runs now through April 24, 2011 at the Noguchi Museum in Long Island City, New York.
References
PBS. (2001). About Isamu Noguchi. http://www.pbs.org/wnet/americanmasters/episodes/isamu-noguchi/about-isamu-noguchi/675/
Grove, N. (2005). Identifying Noguchi. Sculpture. 24 no. 9 26-31.
Noguchi Museum.  (n.d.). Biography. http://www.noguchi.org/noguchi/biography
Goldstein, D. (2006). Crossing Cultures. Art & Antiques 29 no. 2 42, 44.
Carpenter, K. (2008). Organic Utilitarianism: The Sculptures of Isamu Noguchi. Sculpture Review v. 57 no. 1 30-33.
Herman Miller, Inc. (2010). Isamu Noguchi. http://www.hermanmiller.com/Designers/Noguchi
Exhibition Examines Noguchi's Ties to Key Figures in Art, Theater, Design, and Architecture. (2010, November 18). ArtDaily.org http://www.artdaily.com/index.asp?int_sec=2&int_new=42629