Mary Blair, the Disney Artist You've Probably Never Heard Of
The Huffington Post recently ran an article on Disney art director, Mary Blair, whose most recognizable contribution to Disney is the design of the "It's a Small World" ride. One of her concept illustrations is shown below.
Blair's background in modern art and watercolors influenced her work on such productions as "Peter Pan," "Cinderella," and "Alice in Wonderland." Disney's animated productions during the mid-Twentieth century all bear her influence.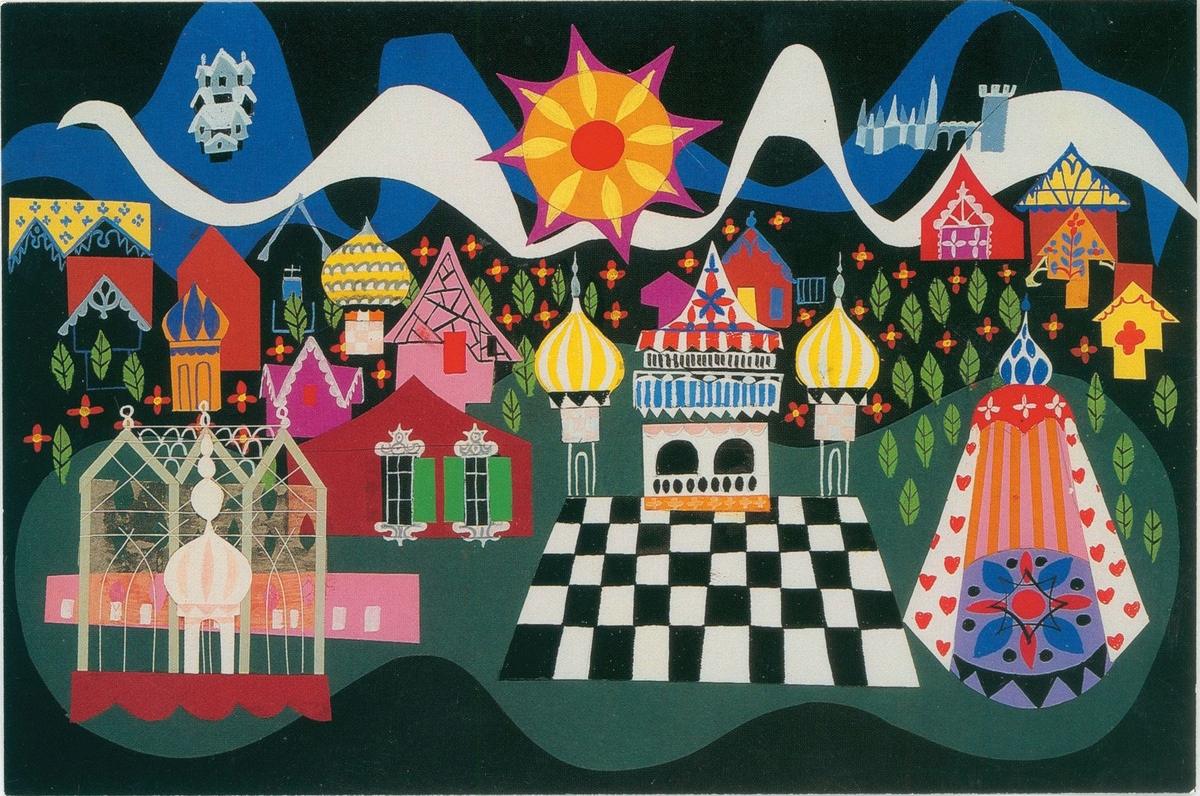 Mary Blair, It's a Small World concept art (ca. 1966) ; Walt Disney Family Foundation; © Disney
Image Source
A retrospective "Magic, Color and Flair: the World of Mary Blair" is on view now through September 7, 2014 at the Disney Family Museum in San Francisco, CA.
For more on Mary Blair read the article on Huffington Post and visit the Disney Family Museum Web site,
Elise Cavanna: Actress and Artist
Design and Desire in the Twentieth Century is again indebted to one of our favorite bloggers, Amy at Aqua-Velvet, for introducing us to the modernist paintings and textile designs of Elise Cavanna. In addition to having been an accomplished visual artist, the striking, six foot tall Ms. Cavanna had a successful career in theatre and film. She is perhaps best known for her comedic work opposite W.C. Fields during the 1930s.
Elise Cavanna, Gray, textile design (circa 1940).
Source: http://aqua-velvet.com/blog/images/2013/10_oct/28_elise3.jpg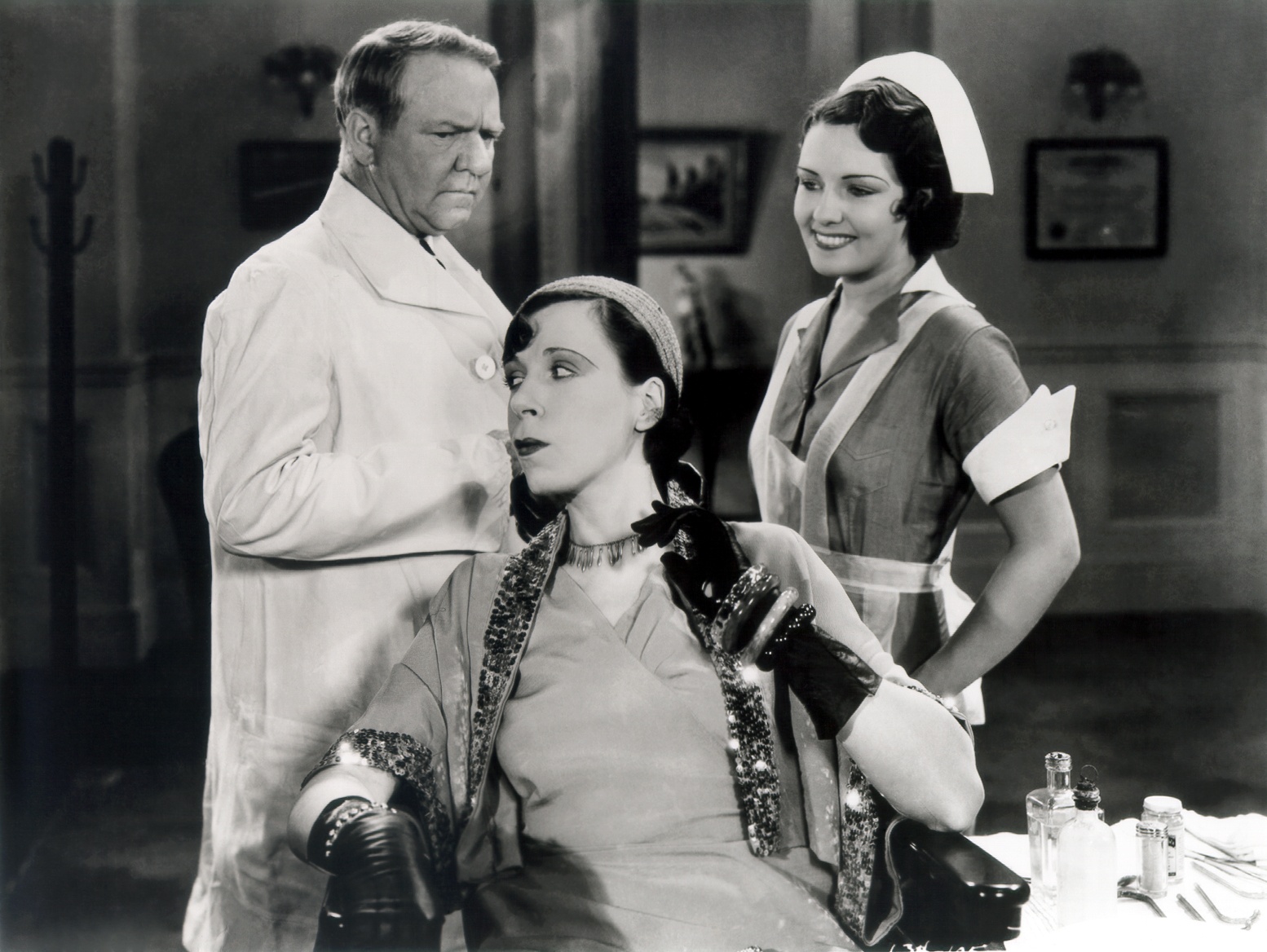 A scene from "The Dentist" (1932), W.C. Fields (left), Elisa Cavanna (seated center).
Source: http://www.doctormacro.com/Images/Fields,%20W.C/Fields,%20W.C.%20(Dentist,%20The)_01.jpg 
Read more about Elise Cavanna and view examples of her work on Aqua-Velvet and on the Los Angeles County Museum Web site.
Charles D. Hall: The Man Who Designed Horror
It's October, Halloween is in the air – a time for monsters, witches, spooks and spirits. It's a perfect time to look at the work of Universal Studios art director Charles D. Hall. You may have never heard of Charles D. Hall.  He certainly doesn't sound as if he was very scary, but Hall designed the look of perhaps the two most famous horror films of all time: Frankenstein (1931) and Dracula (1931). Hall's sets for these films have influenced horror films, as well as the look of Halloween, for over the past eighty years. 
Charles D. Hall's Early Life 
Charles D. Hall was born in Norwich, England in 1888 1; little is known of his childhood. As a young man he worked in theatre and in an unknown capacity in an architect's office. In 1911 Hall, along with his brother Archer, emigrated to Canada. What the two did there is unknown, but they must not have found themselves in a very satisfactory situation, as they moved to Southern California the following year. For the brothers the move was fortuitous, as the area was becoming a bustling hub of silent film production. Charles found employment building sets, and Archer painted sets.2 It was during this period that Charles married his wife Lura, and the pair remained together until Charles's death in 1970.3
Charles Hall and Charlie Chaplin

Director: Charlie Chaplin, Art director: Charles D. Hall. A scene from Modern Times (1936).
Source: http://upload.wikimedia.org/wikipedia/en/1/11/Charlie_Chaplin_-_Modern_Times_(mechanics_scene).jpg 
Charles's film design work began to get him attention. One person who noticed Hall's designs was comedian Charlie Chaplin, who, by the late 1910s, had become a major silent film star and film director.  It's quite possible that Hall's and Chaplin's paths crossed originally back in England during the time they had both been employed by Fred Karno's music hall troupe. Hall began working for Chaplin in 1918, serving as art director for several comedy shorts, including: A Dog's Life, Shoulder Arms and Sunnyside.1 Hall's first feature length film project was Chaplin's The Kid (1921), however, Hall's work on that film was uncredited. During the 1920s Hall served as art director for Chaplin's The Gold Rush (1925) and The Circus (1927).1 In the following decade Hall designed sets for Chaplin's City Lights (1931) and Modern Times (1936), which features the famous factory scene where Hall's "immense machinery of cogs and wheels that almost consume Chaplin"2.
Hall's "Horrific" Projects for Universal

Director: Wallace Worsely, Art director: Charles D. Hall. A scene from Hunchback of Notre Dame (1923).
Source: http://blogs.commercialappeal.com/the_bloodshot_eye/hunch/hunch4.jpg 
Hall joined Universal in 1923, where he designed "the large and impressive set for the silent version of The Hunchback of Notre Dame starring Lon Chaney."2  "The style Hall created drew from Gothic architecture"4 and carried over into his work on 1925's The Phantom of the Opera, as well as his iconic later films for Director James Whale, Frankenstein (1931) and Dracula (1931).  According to Hollywood legend, Hall was so inspired by the tale of Dracula that locked himself in the studio and worked overnight on the film's sets.1 Hall served as art director on eleven of James Whale's films.3 Other notable horror films Hall was credited on include: Edgar G. Ulmer's stylish Art Deco thriller The Black Cat (1934) with Boris Karloff and Bela Lugosi;5The Invisible Man, (1933); Murders in the Rue Morgue (1932); The Bride of Frankenstein (1935); and, credited as Daniel Hall, The Vampire Bat (1933).1  Hall's art direction on these Universal Films "would influence filmmakers and haunt movie goers for decades to come"4. 

Director: Edgar G. Ulmer, Art Director: Charles D. Hall. A scene from The Black Cat (1934).
Source: http://1.bp.blogspot.com/-lhf28Wqjj5Y/URcZbCG8k6I/AAAAAAAABeA/lPnTdTzX89w/s320/Black+cat+-+ulmer+-+architecture+(3).jpg
Dante Ferretti: Big Time Big Screen Designer
One of Design and Desire in the Twentieth Century's favorite bloggers, Cathy Whitlock of Cinema Style and author of Designs on Film: A Century of Hollywood Art Direction, shared news of a current exhibition at the Museum of Modern Art in New York City that pays homage to the work of film production designer, Dante Ferretti.

Dante Ferretti, Production Designer. A scene from inside of the early Twentieth Century train station clock from the film Hugo (2011).
Source: http://4.bp.blogspot.com/-qwbD9PKv3iQ/Tt1CFoym__I/AAAAAAAAAKo/J-04cy1NJ0k/s400/Hugo.jpg
During his fifty-plus year career, Dante Ferretti has worked with such noted directors as Federico Fellini, Martin Scorsese and Frances Ford Coppola. His film credits include The Age of Innocence, Meet Joe Black, Casino, Cold Mountain, The Aviator and Hugo to name but a few of his projects. According to imdb.com, the Italian-born designer is currently working on Kenneth Branaugh's adaptation of Cinderella.
We couldn't think of a Hollywood designer who deserves a more fitting tribute. The exhibition, "Dante Ferretti: Design and Construction for the Cinema", runs now through February 28, 2014 at the Museum of Modern Art. 

Read more about the exhibition on Cinema Style.



Date Ferretti, Production Designer. A scene of 1930s Hollywood from the film The Aviator (2004).
Source: http://2.bp.blogspot.com/-1XmkP31g1bU/Uko9F-A97DI/AAAAAAAAGss/2yoVVkHPFCs/s640/Aviator,+The_KEY+FILM_Di+Caprio.jpg 
Palace Builders: Great Architect from the Golden Age of Theatres
Since we here at Design and Desire in the Twentieth Century are huge classic cinema fans, we'd give anything to have the opportunity to visit the current exhibition at the Sheldon Art Galleries' Bernoudy Gallery of Architecture in St. Louis, MO.  According to the gallery's Web site:
The exhibit was co-curated by the Theatre Historical Society of America and made possible By Mary Strauss. The show runs now through Janurary 25, 2014.
The Ambassador Theatre, St. Louis (1926-1997), architects: Rapp and Rapp, Chicago. Photograph courtesy of the Theatre Historical Society, www.historictheatres.org
Source: http://www.thesheldon.org/galleries/images/2013/300_ambassadortheatre.jpg
Stephanie McMillan, Harry Potter Films Set Decorator, Dies
According to a recent article in the New York Times Online, Academy Award-winning set-decorator Stephanie McMillan died on August 19, 2013 at her home in England. While Ms. McMillan won an Oscar in 1996 for her work on "The English Patient," she is probably best known for being the designer who defined the look of Hogwarts Academy in the Harry Potter film series. She worked on the Potter series with production designer Stuart Craig. 
Among the many films on which Ms McMillan served as set designer were: "Give My Regards to Broad Street" (1984), "A Fish Called Wanda" (1988), "Shadowlands" (1993) and "Notting Hill" (1999).
Scene from 'Harry Potter and the Sorcerer's Stone" (2001). Copyright Warner Brothers.
Source: http://tredreacl.com/HPotter/classroom.jpg
Great Sets from "The Great Gatsby"
Movie buffs who have seen, or are planning to see, Baz Luhrmann's cinematic adaptation of F. Scott Fitzgerald's novel The Great Gatsby, may be interested in a recent article on the Architectural Digest website. The article details Academy Award winning production designer Catherine Martin's (who is also married to Luhrmann) work on the film.
"For Gatsby, she oversaw 42 individual sets created in and around Sydney, both on location and on soundstages. It took her team 14 weeks just to build, paint, and decorate Gatsby's mansion, which called for a grand ballroom, library, master bedroom, entrance hall, and terrace, as well as a garden."

Catherine Martin, Set of Jay Gatsby's bedroom from the film The Great Gatsby (2013).
Source: http://www.architecturaldigest.com/ad/set-design/2013/great-gatsby-film-set-design-slideshow/jcr:content/par/cn_contentwell/par-main/cn_slideshow/item2.size.0.0.great-gatsby-movie-set-design-08-jay-gatsby-bedroom.jpg
The article also discusses the diverse range of influences on Martin's sets for the film.