Silly Saturday: The Truth About Hello Kitty & Other Popular Animated Charaters
Originally introduced in 1974 by the Japanese toy company Sanrio1, Hello Kitty has burgeoned from a cute whimsical graphic to an international marketing powerhouse. Hello Kitty has just celebrated its 40th anniversary and now adorns everything from pencil cases to automatic weapons.
New Yorker contributor, Colin Stokes has some fun investigating the identities of Hello Kitty a few other animated characters you may recognize.  Here's part of Stokes' take on Mickey Mouse:
Mickey Mouse is not a mouse. If you look very closely at him, you can see that he wears gloves. Mice do not have the capability, nor the desire, to put gloves on their hands.

Open kitchen at first "Hello Kitty" licensed restaurant in Asia.
Photo credit: ©2014 Nicole Pang/CNN Source
Reference
1. Del Barco, M. "Hello Kitty Hooks Generations On Cute, Kitsch". National Public Radio. 2010-12-03.http://www.npr.org/2010/12/03/131755914/hello-kitty-hooks-generations-on-cute-kitsch
Mary Blair, the Disney Artist You've Probably Never Heard Of
The Huffington Post recently ran an article on Disney art director, Mary Blair, whose most recognizable contribution to Disney is the design of the "It's a Small World" ride. One of her concept illustrations is shown below.
Blair's background in modern art and watercolors influenced her work on such productions as "Peter Pan," "Cinderella," and "Alice in Wonderland." Disney's animated productions during the mid-Twentieth century all bear her influence.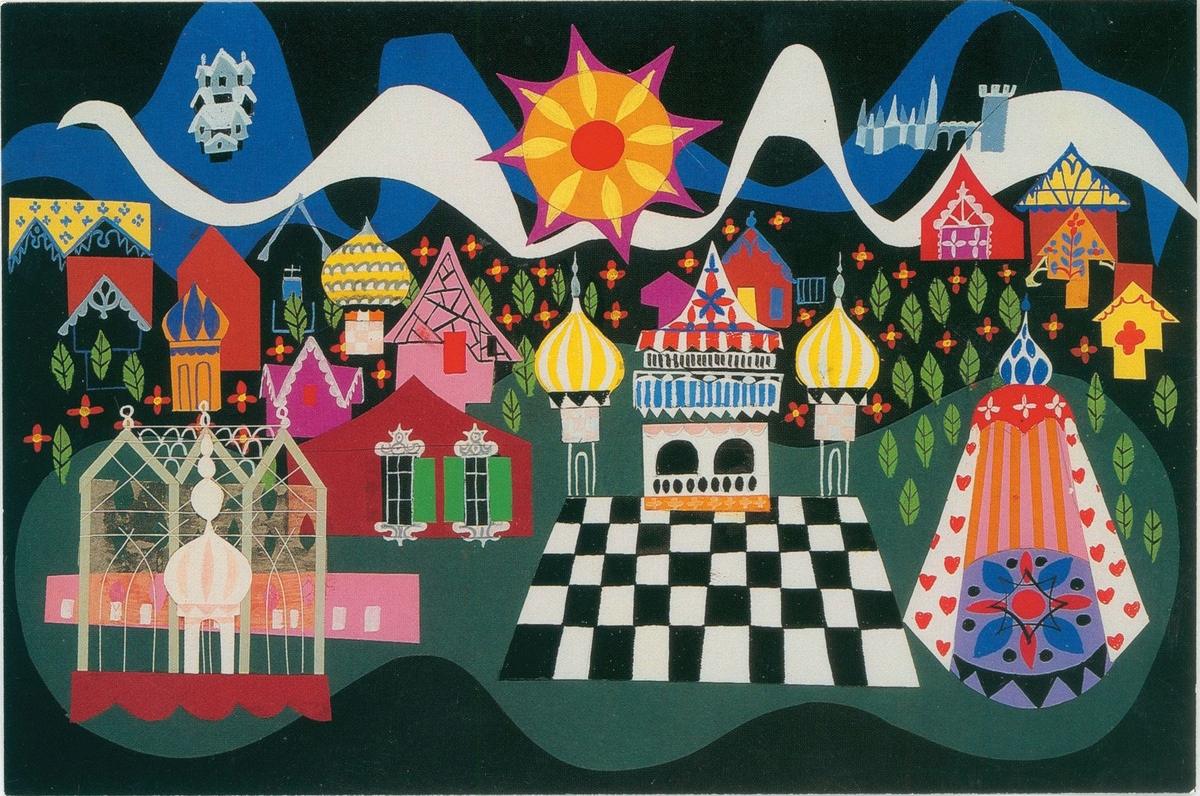 Mary Blair, It's a Small World concept art (ca. 1966) ; Walt Disney Family Foundation; © Disney
Image Source
A retrospective "Magic, Color and Flair: the World of Mary Blair" is on view now through September 7, 2014 at the Disney Family Museum in San Francisco, CA.
For more on Mary Blair read the article on Huffington Post and visit the Disney Family Museum Web site,
Silly Saturday: Evil Disney Princesses
What if the unthinkable happened? What if the Disney princesses turned evil? Recently Quenton Narcisse of Mashable.com posted a gallery of images - "Twisted Disney Princesses" - created by character designer and story artist Jeffery Thomas.  "Alice in Wonderland" is pictured below and you can see the entire gallery on mashable.com.
Jeffrey Thomas, Alice in Wonderland (2013). 
Source:  http://rack.0.mshcdn.com/media/ZgkyMDEzLzA4LzEzLzU1L3R3aXN0ZWRwcmluLjU2Y2ZmLmpwZwpwCXRodW1iCTg1MHg1OTA-CmUJanBn/055fda72/63b/twistedprincess_alice.jpg
Ray Harryhausen: Stop Action Animation Pioneer (1920-2013)
Hollywood is mourning the loss of Ray Harryhausen, stop action pioneer, who died on May 7, 2013 in London according to National Public Radio.  Harryhausen's film credits include: Jason and the Argonauts, The Golden Voyage of Sinbad, One Million Years B.C. and Clash of the Titans among others.  He was awarded a star on the Hollywood Walk of Fame in 2003.1

Ray Harryhausen and one of his stop action creations circa 1965. Photo credit: Hulton Archives/Getty images.
Source: http://media.npr.org/assets/img/2013/05/07/2381837-a9b90fe7cb9c49278be5298e78c8f2dc74f3f88d-s51.jpg
Reference
imdb.com (2013). Ray Harryhausen. http://www.imdb.com/name/nm0366063/?ref_=fn_al_nm_1
The Life and Lines of R.O. Blechman
Designer and author Stephen Heller perhaps best describes the work of cartoonist R.O. Blechman: "Although many cartoonists have copied the shaky look, no one has ever duplicated the human qualities of his everyman … images." Blechman's first cartoons began to gain notoriety in the 1950s and 1960s. His work, however, was very different from most cartoons of the period. Blechman's approach to drawing was as unusual as the topics he dealt with.1

This past June, R.O. Blechman was "inducted into the Society of Illustrators Hall of Fame, which includes America's most illustrious practitioners from Norman Rockwell to Rube Goldberg"1.

R.O. Blechman, The Aquarium (2005).

Starting Out
Born Oscar Robert Blechman (the artist inverted his initials for his pen name) in Brooklyn, New York in 1930, the artist studied at Oberlin College and worked as the editorial cartoonist for the student newspaper, the Oberlin Review. At age 22 he published his first book, "The Juggler of Our Lady"2, precursor to contemporary graphic novels.1 The book caught the notice of animator John Hubley, who invited Blechman to join his Storyboard Studios.3

R.O. Blechman, New York at Night, cover illustration for the New Yorker Magazine (1979).
Source: http://cdn.theatlantic.com/static/mt/assets/culture_test/assets_c/2012/06/blechman%203-thumb-305x454-91505.jpg

Blechman later opened his own studio in 1960, worked as an ad agency art director and even ran an animation studio4; In addition to his animated work Blechman drew cartoons and covers for many popular magazines, most notedly the New Yorker. Blechman has also authored almost a dozen books and illustrated many more.

The Stomach Speaks
In 1966 Blechman created CBS's touching animated "Christmas Message" that the network rebroadcast for many holiday seasons following its debut. Perhaps Blechman's most recognized work is a 1967 animated advertisement for Alka-Selzter featuring an interview with a talking stomach.1




GIF turns 25
The Graphical Interchange Format (GIF), one of the most popular image formats used in web site design, was introduced twenty-five years ago this month by Steve Wilhite of CompuServe. Gif files use lossless compression, which favors flat areas of uniform color with well-defined edges. They can store low-color sprite data for games, and are often used for small animations and low-resolution film clips.1
The Daily Dot celebrates gif's silver anniversary with twenty-five gif animations (including the one below) created by top digital designers. View the animations and read more about the gif file in their blog.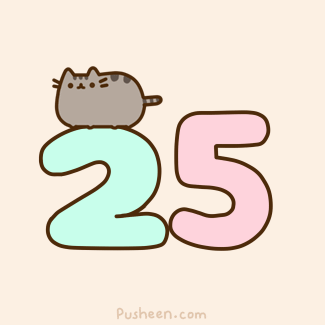 Pusheen. Twenty-fifth Anniversary Cat, (2011). Courtesy of The Daily Dot.
References
Wikipedia, (2012). Graphical Interchange Format. http://en.wikipedia.org/wiki/GIF