Glamour of Italian Fashion At V&A
After the Second World War, Italy emerged from the War's rubble and its fashion industry rivaled that of Paris in its innovation and luxury. An exhibition opening in April 2014 at the V&A Museum in London, The Glamour of Italian Fashion: 1945-2014, examines this transition.
The Glamour of Italian Fashion: 1945-2014 will feature leading designers and fashion houses of the period: Pucci, Valentino, Gucci, Giorgio Armani, Dolce & Gabbana, Prada, Versace and others. The exhibition will also explore the influence that Hollywood films shot on location during the 1950s and 1960s had on the industry.
Details about The Glamour of Italian Fashion: 1945-2014 can be found on the V&A Web site.
Designer Valentino posing with models, Rome, July 1967. Courtesy of The Art Archive, photographer: Marisa Rastellini.
Image Source
Groovy Men's Fashions from the Seventies
Today's blast from the past comes to us from Andrea of the No Pattern Required blog. Yes, in the 1970s men did actually wear kaftans — in fact, almost everyone did. 
View more menswear patterns from the 1970s on No Pattern Required.
Butterick, Inc. Pattern #4283. Circa 1970. Photo credit: No Pattern Required.
Source: http://www.nopatternrequired.com/wp-content/uploads/2013/10/menswear1-465x620.jpg 
Dior Goes Hollywood
This past spring Harrod's Department Store in London held "Dior at Harrods," an exhibition of Christian Dior fashions worn by Hollywood actresses and other noted celebrities. The exhibit featured fashions designed in the 1950s by Christian Dior himself as well as more recent designs by House of Dior that were worn by the late Princess Diana and actresses Julianne Moore and Natalie Portman.
Thank you very much to Clothes on Film for originally posting information about the show. You can read details and view more photos by Jennifer Lunn on the Clothes on Film blog.
Read more about Christian Dior's life and work.
Margot Fonteyn's Dior suit and Elizabeth Taylor's dress worn for the 1961 Academy Awards. Photo credit: Jennifer Lunn.
Source: http://clothesonfilm.com/wp-content/uploads/2013/05/Dior-at-Harrods_Margot-Fonteyn-grey-suit-and-Elizabeth-Taylor-dress-1961-Oscars-Butterfield-8_Image-credit-Jennifer-Lunn-001.jpg
RNB2KFHWK9JN
An American Look: Fashion, Decorative Arts and Gustav Stickley

(Right) Tall-back inlaid oak armchair designed by Harvey Ellis for Gustav Stickley, c. 1903, (Left) Clifton Pottery Crystal Patina vase #148, 1906; Clifton Pottery Crystal Patina vase #166, 1905; Grueby Pottery low bowl with matte green glaze; contemporary oak tabouret by Mitchell Andrus. Photo credit: Steve Sartori.
Source: http://www.everson.org/_img/_exhibits/detail/anamericanlook_02.jpg
The exhibition, "An American Look: Fashion, Decorative Arts and Gustav Stickley," running now through September 22, 2013 at the Everson Museum of Art in Syracuse, New York, examines the way in which American design increased its influence upon women's fashions at the turn of the twentieth century.  Up until that time women's fashion had been largely dominated by French designers. 
The swiftly changing lifestyles of upper class American women, along with role of women in society in general, led to clothing that allowed more freedom of physical movement. Gone were the corseted hour-glass shapes, bustles and trains glorified by Charles Dana Gibson's Gibson Girl of the earlier decade; a new elegant silhouette based on the two-thirds proportion exemplified high style for the new woman of the 1910s. This silhouette was evident in the exhibition's evening gowns with empire waists and the shirtwaist blouse with walking skirt ensembles. The two-thirds proportion could also be seen in both a large Grueby vase and a Gustav Stickley hall clock featured in the show. 
Vintage Vogue Sewing Patterns
According to the Vintage Patterns blog, "Vogue Magazine included a weekly sewing pattern in their magazine as early as 1899, but it wasn't until the 1940s that Vogue Patterns expanded to producing designer patterns, bringing Parisian haute couture into the sewing rooms of the world."
View more Vogue Patterns on Vinatge Sewing Patterns.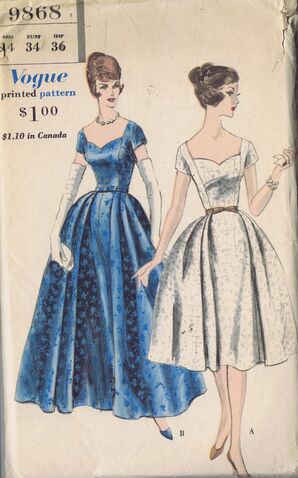 Vogue Pattern No. 9868, front cover. Copyright Vogue, 1959.
Source: http://images1.wikia.nocookie.net/__cb20130614202914/vintagepatterns/images/thumb/8/8c/9868_front.jpg/298px-9868_front.jpg
The Bride Wore Vintage
As June, the traditional wedding month begins, we'd like to thank Lauren of Wearing History for sharing photos from a real life wedding where not only the wedding party were dressed in 1930s style — but so were all the wedding guests!
See the wedding photos on Wearing History.
Here's a photo of Lauren dressed for the occasion.

Photo Credit: Copyright 2013, Wearing History.
Source: http://wearinghistoryblog.com/wp-content/uploads/2013/04/483243_454144564661699_1190433146_n.jpg
Happy Third Anniversary, Design and Desire!
Has it really been been three years since Design and Desire in the Twentieth Century was launched on June 1, 2010? To celebrate the milestone we're revisiting one of our favorite posts from our very first month. It's an article inspired by the fashion collection at the Rock and Roll Hall of Fame Museum in Cleveland, Ohio and was originally posted on June 28, 2010.
Leather 'n' Lace 'n' Rock 'n' Roll
When one thinks of the Rock and Roll Hall of Fame and Museum in Cleveland, Ohio one immediately thinks of the legendary artists enshrined there and their music. But what about the designers who supported these musical greats? What about those designers who, in particular, created all those iconic fashions that were worn on stage, film, video and on posters and album covers? During a recent visit to the museum I took note of the costumes on display in the Ahmet M. Ertegun Exhibit Hall located on the museum's lower level. Seeing these clothes truly was a "mind blowing" experience.
Beatles in Concert wearing Sgt. Pepper's Lonely Hearts Club Band Uniforms
Source: http://ispauldead.com
Pardon the pun, but imagine my thrill at seeing the actual uniform that John Lennon wore in the photos on the Sgt. Pepper's Lonely Hearts Club Band album cover. I can't remember the last time I got that excited about seeing an art masterpiece. Several costumes from each decade of The Rolling Stones' career were also displayed, including those designed by Fiona Williams for the 1994-1995 Voodoo Lounge tour. While I was aware that Mick Jagger was not a large person, I was still amazed at how small the clothes were that he and other members of the band wore. I believe that my twelve-year-old niece could have fit nicely into most of their outfits.
Silly Saturday: Calling All Chubbies
Retronaut.com recently posted a strange politically incorrect yet amusing series of Lane Bryant advertisements on their site. Apparently during the earlier part of the Twentieth Century it had been acceptable to refer to larger women as "stout" and "chubbies." It's difficult, however, to imagine that doing so would increase sales.
One example is shown here. See the other ads at Retronaut.com.

"Calling All Chubbies" Lane Bryant Advertisement, Designer unknown (circa 1940-1950).
Source: http://www.retronaut.com/wp-content/uploads/2012/12/Calling-All-Chubbies-0.jpg
Stephen Burrows: When Fashion Danced
Stephen Burrows was one of the hottest young fashion designers of New York City's disco and music scenes in the 1970s. His creations captured the spotlight with innovative use of bright wild colors and silky flowing fabrics. Burrows' celebrity clients include Barbra Streisand, Cher, Liza Minnelli and Dianna Ross among many others.
In the 1980s, Burrows career took a downturn, but "after twenty years of obscurity, he made one of the biggest comebacks in fashion history"1.
This spring the Museum of the City of New York will host the first retrospective of Burrows' work. The show "Stephen Burrows: When Fashion Danced" opens March 22, 2013.
More on Stephen Burrows.

Stephen Burrows, Two Gowns (1973). Photo credit: Charles Tracy
Source: http://www.mcny.org/images/content/1/5/15345.jpg
References:
New York Magazine, (2013). Stephen Burrows. New York Magazine Online, Fashion. http://nymag.com/fashion/fashionshows/designers/bios/stephenburrows/