On Becoming an Artist: Isamu Noguchi
"Everything is sculpture.  Any material, any idea without hindrance born into space, I consider sculpture." — Isamu Noguchi
Isamu Noguchi (1904-1988) was one of the Twentieth Century's most important and influential sculptors. He "believed that through sculpture and architecture, one could better understand the struggle with nature"(1). Noguchi's father was a Japanese poet and his mother, an American writer. Although the artist was born in Los Angeles (2), he spent much of his childhood in Japan. He returned to the United States as a teenager in order to attend boarding school (3,4). Noguchi would remain an "internationalist, [and travel] extensively throughout his life"(3). 
Isamu Noguchi, Long Island City Studio with Akari sculptures, 1960s.
Source: © Isamu Noguchi Foundation Inc, New York courtesy designmuseum, London http://www.designboom.com/portrait/noguchi/bio2.jpg

As a young man, Noguchi began studying medicine at Columbia University. During this period he was also enrolled in sculpture classes and soon "realized that art, not medicine, was his true calling"(1). "When he was only twenty Noguchi had his first exhibition in New York City"(5). In 1927, "he received a Guggenheim Fellowship…that allowed him at age twenty-three to apprentice under Constantin Brancusi"(5). Brancusi's influence is evident in Noguchi's work throughout his prolific career.
Two years later, Noguchi was to meet another individual who would have a profound effect upon his life, "the visionary architect, futurist, and poet"(5), Buckminster Fuller. Fuller's "utopian outlook greatly influenced Noguchi"(5) and the two became life-long friends. Fuller's ideas, no doubt, had an impact on Noguchi's "increased social awareness"(5) that led the sculptor to establish "Nisei Writers and Artists Mobilization for Democracy, a group dedicated to raising awareness of the patriotism of Japanese-Americans"(3) in 1942. That same year, Noguchi endured "a voluntary stay in a Japanese interment camp for several months"(5). After the War, the artist returned to Japan to explore "the wrenching issues raised during the previous years. His ideas and feelings are reflected in his work of the time"(3).

Stage set elements from Herodiade (1944) choreographed by Martha Graham in Robert Wilson's installation of Isamu Noguchi: Sculptural Design at the Design Museum, 2001
Source: http://designmuseum.org/media/item/4000/-1/12_10Lg.jpg
Dancer and choreographer Martha Graham is another figure who greatly influenced Noguchi's career. "As early as 1935"(3) he designed sets for her company and collaborated with other "dancers/choreographers Merce Cunningham, Erick Hawkins, and George Balanchine [as well as] composer John Cage"(3). According to scholar Nancy Grove, with work such as this "Noguchi challenged Modernist prohibitions against commerce and genre-crossing"(2).
Isamu Noguchi. Akari Lamps, 1951.
Source:  http://blog.dwr.com/.a/6a00d8345173e769e20133f5e68b9a970b-450wi
Noguchi would blur the line between pure art and functional design with his iconic creation Radio Nurse for Zenith Radio Corporation in 1937 (2). In the 1940s George Nelson, design director for Herman Miller, wrote an article called "How to Make a Table" using one of Noguchi's designs as an illustration for the piece. This design eventually "became his famous 'coffee table,' originally introduced in 1947 and reissued in 1984"(6).  Noguchi's 1951 Akari Lamps of "paper, bamboo, and metal"(2) borrowed their structure from traditional Japanese shoji lamps, yet these lamps' "asymmetrical shapes"(4) were inspired by Brancusi's work (4).
In the 1960s Noguchi and architect Louis Kahn collaborated on a design for a playground (3). "The Adele Levy Memorial Playground, intended to occupy eight acres of New York City's Riverside Park"(7) was one of a series of "playscapes" the sculptor designed in which "the standard swing, slide, and climbing structure"(7) was replaced by "an array of geometric shapes"(7) that children could climb and play upon. Sadly, the project was eventually rejected by city officials and never realized.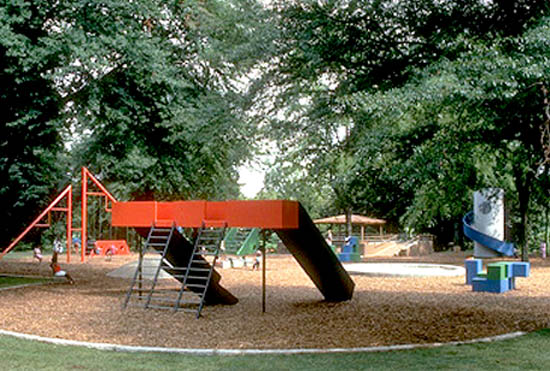 Isamu Noguchi. Playscapes (1975-76). Piedmont Park, Atlanta. Photo by Isamu Noguchi
Source:  http://www.artnet.com/magazine/features/stern/Images/stern1-27-8.jpg
"Noguchi died in 1988;…half his ashes are buried in the Noguchi Museum garden, the rest at his compound in Japan. In life as in death, Noguchi honored both his Japanese and American heritage"(4). For more insight on Isamu Noguchi's his life and work and the remarkable people who shaped the artist's career, visit  "On Becoming an Artist: Isamu Noguchi and His Contemporaries, 1922–1960." The exhibition runs now through April 24, 2011 at the Noguchi Museum in Long Island City, New York.
References
PBS. (2001). About Isamu Noguchi. http://www.pbs.org/wnet/americanmasters/episodes/isamu-noguchi/about-isamu-noguchi/675/
Grove, N. (2005). Identifying Noguchi. Sculpture. 24 no. 9 26-31.
Noguchi Museum.  (n.d.). Biography. http://www.noguchi.org/noguchi/biography
Goldstein, D. (2006). Crossing Cultures. Art & Antiques 29 no. 2 42, 44.
Carpenter, K. (2008). Organic Utilitarianism: The Sculptures of Isamu Noguchi. Sculpture Review v. 57 no. 1 30-33.
Herman Miller, Inc. (2010). Isamu Noguchi. http://www.hermanmiller.com/Designers/Noguchi
Exhibition Examines Noguchi's Ties to Key Figures in Art, Theater, Design, and Architecture. (2010, November 18). ArtDaily.org http://www.artdaily.com/index.asp?int_sec=2&int_new=42629