The Man Behind "The New Look": Christian Dior (1905-1957)
Christian Dior, undoubtedly the most influential post-World War II fashion designer, was best known for the hourglass silhouette of his New Look. Dior's influence, however, extended beyond the couture house; he created a "new business model in the post-war fashion industry by establishing Dior as a global brand across a wide range of products."1

Christian Dior was born in 1905 in Granville on the Normandy coast. His father, a wealthy manufacturer, moved the family to Paris when Dior was five years old. As a young boy he was always fascinated with art, dreaming one day of becoming an architect.1 Dior's family had other plans for his future. "At his father's insistence, he enrolled at the prestigious Ecole des Sciences Politiques."1

Dior soon abandoned that career path, and in 1928, with funding from his father, he and friend Jacques Bonjean opened an art gallery in Paris. The gallery was short-lived as  a few years later tragedy struck the Dior family. Both Dior's older brother and beloved mother died; the family business went under as so did Dior's gallery. Dior survived by "selling sketches of hats to Parisians. He drew dresses too, but initially his hats were more in demand"2.  In 1938 Dior's "friend Robert Piquet opened a fashion house"3 and Dior was hired as a designer.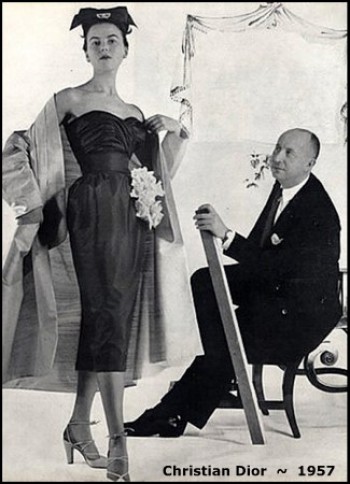 Christian Dior looking on as a model displays an evening dress. Photographer unknown. Source: http://headtotoefashionart.com/wp-content/uploads/Dior-photo-1957-e1292280350413.jpg

During World War II Dior served briefly as an army officer until France's surrender to Nazi Germany. Shortly afterward designer Lucien Lelong hired Dior to work for his design house. "Dior spent the rest of the War dressing the wives of Nazi officers and French collaborators."1 Although France was in ruins after the War, there existed many business opportunities. Textile manufacturer, Marcel Boussac, known as the "King of Cotton,"1 was eager to begin selling his products again, and "Dior's description of a luxurious new look with a sumptuous silhouette and billowing skirts had an obvious appeal."1 Boussac provided Dior with the financial backing for his fashion house which opened in 1946.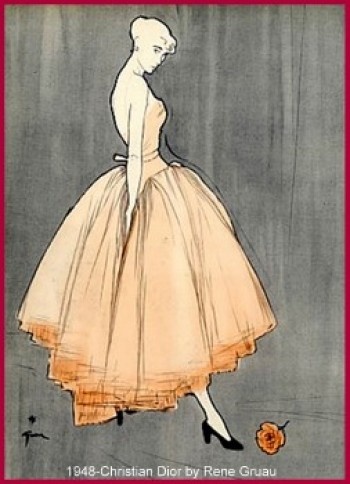 Rene Gruau, Illustration of Dior Evening Gown, 1948.
Source: http://headtotoefashionart.com/wp-content/uploads/Dior-by-R-Gruau-1948-e1292793472567.jpg

Paris and the world were anxious for something new after the hardship and sacrifice of the War years. Dior's first couture show in February 1947 took the world by storm. "His new look was reminiscent of the Belle Epoque ideal of long skirts, tiny waists and beautiful fabrics that his mother had worn in the early 1900s."1
Christian Dior, Bar Suit (1947). Photograph: Willy Maywald (circa 1955).
Source: http://www.vam.ac.uk/vastatic/microsites/1486_couture/images/largeBarSuit1.jpg

"Dior put Paris back on the fashion map."1 His clients ranged from Hollywood stars such as Rita Hayworth and Marlene Dietrich to royalty like the Duchess of Windsor. For the remainder of the 1940s and for much of the 1950s, "Christian Dior was the biggest and best-run haute couture house in Paris."1 Dior's great success attracted the best fashion talents; Pierre Cardin and Yves Saint Laurent designed for Dior. Saint Laurent became head designer after Dior's death.

In 1957, at the height of his commercial success, Dior died suddenly of a heart attack while traveling in Italy.  Prior to his death, Dior established his brand world-wide by being the first fashion designer "to arrange licensed production of his designs. Furs, stockings, ties and perfume were manufactured in regional centers across the world,"2 a concept that would eventually revolutionize the fashion industry even more than his New Look had revolutionized women's fashion.

References
1.    Design Museum, (n.d.). Christian Dior, Fashion Designer (1905-1957). http://designmuseum.org/design/christian-dior
2.    Biography Channel UK, (2012). Christian Dior Biography. http://www.thebiographychannel.co.uk/biographies/christian-dior.html
3.    Head to Toe Fashion Art, (n.d.). Christian Dior, 1905-1957:  Biography of Christian Dior, fashion designer. http://headtotoefashionart.com/christian-dior-1905-1957/
blog comments powered by

Disqus