Norman Bel Geddes: Designer of Tomorrow
Norman Bel Geddes was one of the leading designers of the first half of the twentieth century, yet he is largely forgotten today. The designer's fame seems to have been eclipsed by that of his daughter, actress Barbara Bel Geddes.1
Perhaps the most prestigious and best-remembered of Bel Geddes's projects was the General Motors Pavilion, "Futurama," designed for the 1939 New York World's Fair. Bel Geddes began his career as a theatrical designer, so it is fitting that "Futurama" like most of the designer's work, was ephemeral and exists now only in photographs or on film.1 Why should Bel Geddes be remembered? Is his work still considered relevant today?
Bel Geddes's Set Design & Marriage
The designer was born Norman Melancton Geddes in Adrian, MI in 1893, and he changed his last name in 1916 when he married writer Helen Belle Sneider. The new surname was a combination of her middle name "Belle" and his last name. Bel Geddes "studied briefly at Cleveland Institute of Art and the Art Institute of Chicago"2 but never graduated from either institution.
 In 1916 Bel Geddes landed his first major design job as set designer for Aline Barnsdall's "Little Theatre" in Los Angeles. (Miss Barnsdall is also remembered as one of Frank Lloyd Wright's influential California clients.) In 1918 Bel Geddes went to New York and worked for a season designing sets for the Metropolitan Opera, and after that he was set designer for several Broadway productions.3

Norman Bel Geddes designing the Macy's Christmas Parade Punch and Judy float, 1926. Photo credit: The Edith Lutyens and Norman Bel Geddes Foundation / Harry Ransom Center
Source
In the mid-1920s Bel Geddes designed film sets for Cecile B. DeMille's "Feet of Clay" (1924) and for D.W. Griffith's "The Sorrows of Satan" (1925). Bel Geddes and De Mille would work again towards the end of their careers in 1952 when Bel Geddes designed the big top for De Mille's production of "The Greatest Show on Earth."4
Neutra Buildings Endangered
Prairie Mod recently posted that several Richard Neutra buildings on the Orange Coast College campus in Costa Mesa, CA are threatened with demolition. The buildings slated to be thrown down are the planetarium and the mathematics building.
According to an article in Coast Report Online, a student Web site,  additional confusion concerning the future of the structures lies in whether Neutra was the actual architect. The article goes on to say that Neutra may have supervised the plans, but Neutra's partner "Robert Alexander may have been the actual architect."
Environmental and engineering surveys of the buildings are scheduled before the decision process can continue. Design and Desire will follow the developments.
Read the story on Coast Report Online.

Richard Neutra, Orange Coast College Mathematics Wing (top) and Planetarium (bottom) (c.1950). Photo credit: Joe Charles.
Source
Niagara Mohawk Building
Recently our friends at Art Deco Architecture posted this stunning image of the Niagara Mohawk Building is located in my hometown, Syracuse, NY. I used to pass this building every day on my way to work at another, although less impressive, Art Deco structure, the State Tower Building.
Melvin L. King, Niagara Mohawk Building (1932). Photographer unknown.
Source
As soon as the snow melts (if it ever does), I'll get out and take more photos of this Art Deco masterwork to add to Design and Desire. And to our friends at Art Deco Architecture, if you do get the opportunity to visit Syracuse, NY, please don't hesitate to look me up!
Updating Mies's Martin Luther King, Jr. Library
Ludwig Mies van der Rohe's Martin Luther King, Jr. Library in Washington, DC is slated for a major renovation and modernization project. According to the DC Library Web site, the architectural firms of Martinez + Johnson Architecture and Mecannoo have been selected to design the project.
An article on the Washington Post Web site discusses the challenges facing the rennovation: "how to update it for more contemporary library functions while respecting the essentials of Mies's architectural vocabulary, and how to expand it for other uses — possibly residential or office space." Essentially, can Mies's minimalist modernist design survive a post-modern overhaul?
Read about the architect selection process on DCLibrary.org.

Ludwig Mies van der Rohe, Martin Luther King, Jr. Library (constructed in 1972), Washington, DC.
Source
Possible New Life for Julia Morgan's Pasadena YWCA
Very interesting news has come to us via Pasadena Weekly. California architect Julia Morgan's 1921 YWCA Building in Pasadena, CA is under consideration for adaptive reuse. According to the article on the Pasadena Weekly Web site, "[T]he Pasadena City Council reviewed development plans for the long-vacant YWCA building, which is expected to be converted into a boutique hotel."
The structure, vacant since 1997, is listed on the National Register of Historic Places.
Read the article on Pasadena Weekly.
Read more on architect Julia Morgan.
Julia Morgan, Pasadena YWCA Building (1921). Photographer unknown.
Opening Day
Editor's Note: This article was originally posted on March 31, 2011.
Since today is Major League Baseball's Opening Day, we thought we'd celebrate by sharing designer Mark Lamster's experience as a baseball card collector, orignally posted on Design Observer. One of Lamster's favorites is a 1972 Roberto Clemente card. What's one of yours? Send us a link, and we'll post it here.
Left: 1951 Bowman baseball #162 Larry Jansen, New York Giants.
Source: Source
Right: 1933 Goudey Big League Baseball Rogers Hornsby.
Source:Source
Second Homes for Leisure Living
Today most of us can barely afford one home, but back in the prosperous days of the Twentieth Century many members of the rising middle class had expendable income to spend on "leisure homes." In a 2009 post, grain edit shared illustrations from a booklet published by the Douglas Fir Plywood Association entitled, "Second Homes for Leisure Living." he brochure is a collection of 16 mid century modern cabin plans by various architects including George Matsumoto, Frederick Liebhardt, David George and Henrik Bull.
View the in its entirety on the US National archives Web site.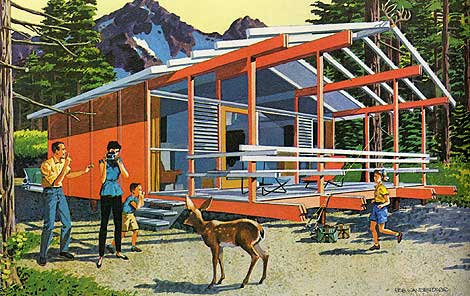 Walter Widmeyer, Two Stage Expandable Vacationer Home (1960).
Source
90 Years of Warner Brothers Logos
Since March is traditionally Oscars month, we're sharing an interesting article originally posted on the Fast Company Design blog which looks at the evolution of the iconic Warner Brothers logo from the 1920s to the present day.
Not only has the basic form of the initials "WB" encased in a shield changed over the decades, but according to Co.Design, "Filmmakers have always been encouraged to tailor it to suit the individual tone of their films."
Examples of iterations of the WB logo can be seen on Movie Title Stills Collection.

Warner Bros. Pictures Logo as depicted in Elia Kazan's America, America (1963).
Source