Hans J. Wegner: Shell Chair, 1963

Hans J. Wegner, Shell Chair (1963).
Source.
While teak was Hans Wegner's medium of choice, he did execute a few chair designs in bent plywood. His 1963 Shell Chair, also popularly referred to as "The Smiling Chair" is perhaps his most stunning bent plywood design.1
The Shell Chair was originally produced in a limited run in 1963, but never really took off. The design was shelved until 1997 when the chair saw a resurgence in popularity and remains in production today.2 
References
Design Within Reach, (2014). Shell Chair: Product Information. http://www.dwr.com/product/shell-chair-walnut-leather-thor.do
Hive, (2014). Ch07 Lounge Chair. http://hivemodern.com/pages/product5/carl-hansen-hans-wegner-ch07-lounge-chair
Hans J. Wegner: Ox Chair, 1960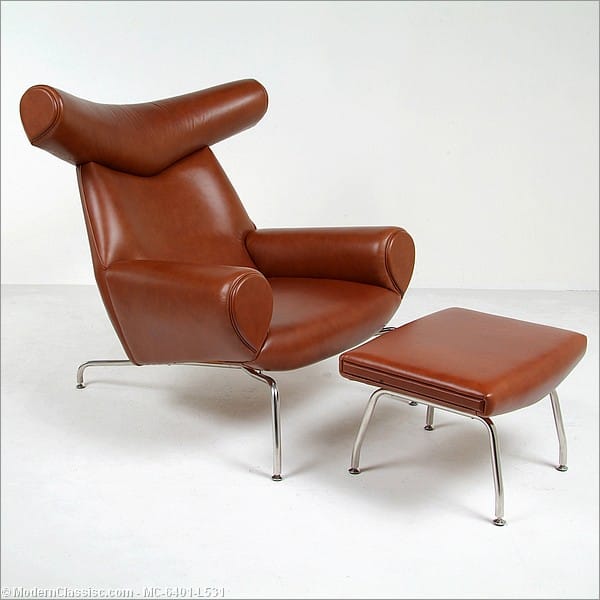 Hans J. Wenger, Ox Chair (1960).
Source.
Danish Designer Hans Wegner was admired the work of Pablo Picasso and drew inspiration for his Ox Chair from Picasso's surrealist paintings of the 1930s. Like Wegner's Shell Chair which was introduced in the early 1960s, the chair was not successful upon it's first introduction. The chair, considered too difficult to manufacture during the period, was pulled from production.
In the mid-1980s, furniture-making technology had advanced to the point where the Ox Chair could be produced at a reasonable cost. The chair was reintroduced to the market in 1985 and remains popular today.

Hans J. Wenger, sitting in his Ox Chair (circa 1960). Photographer unknown.
Source.
Reference
Danish Design Store, (2014). Wegner Ox Chair. http://www.danishdesignstore.com/products/wegner-ox-chair-by-erik-jorgensen-designer-hans-j-wegner
Hans J. Wegner: The Round Chair, 1950

Hans J. Wegner, Round Chair (1950).
Source.
Unlike Hans Wegner's earlier works, The Wishbone Chair (1949) and the Peacock Chair (1947), the Round Chair did not draw as directly from past furniture types. The Round chair, or "Round One" as Wegner always referred to it, was uniquely modern and uniquely Danish.
Most Americans' introduction to the Round Chair occurred during the televised Kennedy/Nixon Debates in 1960. According to the chair's manufacturer, PP Møbler the piece "was chosen mainly for its comfort and genuine quality." After the debates Americans began to refer to the Round Chair as simply "The Chair."

Senator John F. Kennedy sitting in Wegner's Round Chair while preparing for a debate against Richard M. Nixon, 1960.
Source
Hans J. Wegner: Peacock Chair, 1947

Hans J. Wegner, Peacock Chair (1947).
Source.
The Peacock Chair got its name from Danish architect and designer Finn Juhl whose first impression upon seeing the design was that the chair's flat back slats looked like a peacock's plumage.1
The shape of the chair is also reminiscent of British and early American Windsor Chairs.2

Windsor Armchair (ca. 1700).
Source.
Reference
1, 2.  P.P. Møbler. The Peacock Chair, 1947.  http://www.pp.dk/index.php?page=collection&cat=2&id=35
Hans J. Wegner: Wishbone Chair, 1949
Hans J. Wegner, Wishbone Chair with cane seat (1949).
Source.
Danish furniture designer Hans J. Wegner's Wishbone Chair was one of a series of chair designs inspired by Chinese court chairs from the Ming Dynasty (1368-1644).1 The Wishbone Chairwas one of the last of the "China" series and perhaps Wegner's most famous chair design.
Wegner's inspiration for the Wishbone Chair:


Ming Dynasty Chair (ca. 1368-1644)
Source
According to the Carl Hansen & Søn Web site:
Despite the chair's straightforward appearance it takes more than 100 steps to make one. Amongst other things, the hand-woven seat consists of more than 120 meters of paper cord.
They should know. Wegner designed the Wishbone Chair for Carl Hansen & Søn in 1949, and the firm has been continuously manufacturing the chair since that time.
Reference
1.  Carl Hansen & Søn, (n.d).  Hans J. Wegner. http://www.carlhansen.com/designers/hans-j-wegner/
Hans J. Wegner: King of Chairs
"The chair does not exist. The good chair is a task one is never completely done with." — Hans J. Wegner
This year marks the hundredth anniversary of the birth of Danish Furniture designer, Hans J. Wegner. During his prolific career Wegner designed over 500 chairs, many being the most popular and recognizable mid-century furniture.

Hans J. Wegner with models of his chairs, 1997. Photo credit: Associated Press.
Source.
In honor of Wegner's cennteniary, the Designmuseum Danmark is running an exhibition, Just One Good Chair, highlighting the designer's work. For those of use unable to attend the exhibition, we'll be spotlighting one of Wegner's iconic chair designs each day this week.
Read more about the exhibition on Fast Company's design blog.
See a timeline of Wegner's career on the PP Møbler Web site.
Read Hans J. Wegner's 2007 New York Times obituary.
Photo from the "Just One Good Chair " exhibition. Copyright 2014 Designmuseum Danmark. Photo credit: Pernille Klemp.
Source.
Majestic Theatre Building, Chicago, IL
It may be difficult to believe but when the twenty-story  Majestic Theatre opened its doors in 1906 it was Chicago's tallest building. According the a post on designslinger.com, the building designed by architect Edmund R. Krause "was also the first public auditorium built in the city following the horrific Iroquois Theatre fire that claimed the lives of over 700 matinee attendees in 1903."
The structure originally served as a Vaudeville theatre and office space, but as Vaudeville's popularity waned in the late 1920s the Majestic converted to a movie house. According to designslinger the building underwent another metamorphosis in 2005 when it was sold to the Nederlander Organization. The theatre underwent renovation, was renamed "Bank of America Theatre," and is home once again tolive theatre productions. The office space portion of the building, which was sitting virtually vacant at the time of the sale, was converted into hotel rooms.
See more photos and read the entire post on designslinger.com.

Edmund R. Krause, Majestic Theatre Building (1906), Chicago, IL.
Source
New Bio Pic on Yves Saint Laurent Opens in UK
[W]e could not make any alterations to the original pieces…, so we had to cast the models for the fashion show scenes in a very unusual way, by finding models that would fit the dresses.
Norman Bel Geddes: Designer of Tomorrow
Norman Bel Geddes was one of the leading designers of the first half of the twentieth century, yet he is largely forgotten today. The designer's fame seems to have been eclipsed by that of his daughter, actress Barbara Bel Geddes.1
Perhaps the most prestigious and best-remembered of Bel Geddes's projects was the General Motors Pavilion, "Futurama," designed for the 1939 New York World's Fair. Bel Geddes began his career as a theatrical designer, so it is fitting that "Futurama" like most of the designer's work, was ephemeral and exists now only in photographs or on film.1 Why should Bel Geddes be remembered? Is his work still considered relevant today?
Bel Geddes's Set Design & Marriage
The designer was born Norman Melancton Geddes in Adrian, MI in 1893, and he changed his last name in 1916 when he married writer Helen Belle Sneider. The new surname was a combination of her middle name "Belle" and his last name. Bel Geddes "studied briefly at Cleveland Institute of Art and the Art Institute of Chicago"2 but never graduated from either institution.
 In 1916 Bel Geddes landed his first major design job as set designer for Aline Barnsdall's "Little Theatre" in Los Angeles. (Miss Barnsdall is also remembered as one of Frank Lloyd Wright's influential California clients.) In 1918 Bel Geddes went to New York and worked for a season designing sets for the Metropolitan Opera, and after that he was set designer for several Broadway productions.3

Norman Bel Geddes designing the Macy's Christmas Parade Punch and Judy float, 1926. Photo credit: The Edith Lutyens and Norman Bel Geddes Foundation / Harry Ransom Center
Source
In the mid-1920s Bel Geddes designed film sets for Cecile B. DeMille's "Feet of Clay" (1924) and for D.W. Griffith's "The Sorrows of Satan" (1925). Bel Geddes and De Mille would work again towards the end of their careers in 1952 when Bel Geddes designed the big top for De Mille's production of "The Greatest Show on Earth."4