All Wright Walk 2014: Peter A. Beachy House (1906)
Architect Frank Lloyd Wright designed this residence for Peter and Susan Emma Beachy immediately after returning from his first visit to Japan; this enormous house reflects the Japanese influence (though Wright himself rarely if ever admitted to being influenced by anything or anyone). Another home featured on the All Wright 2014, the Hills-DeCaro House (1906) also exhibits Japanese influence.1

The current owners are superb, ideal and sensitive stewards of the remarkable Beachy House.
Frank Lloyd Wright, Peter A. Beachy House (1906).

Below is a detail shot of the Beachy House exterior.
All photos credit: Bill Bowen © 2014.
Reference
1. Frank Lloyd Wright Trust, (2014). All Wright Walk [Brochure].
All Wright Walk 2014: Hills-DeCaro House (1906)
It is difficult to believe that Frank Lloyd Wright's Hills-DeCaro House (1906) was originally a Stick-style house that Wright was commissioned to remodel by Nathan Moore who the property next door. It is even more difficult to believe that most of the existing structure was rebuilt in the late 1970's after a devastating fire destroyed all but the first floor of the home. The home is jointly named for the home's original owners the Hills and for the DeCaros who restored the home close to Wright's original vision.

Frank Lloyd Wright, Hills-DeCaro House (1906, restored 1977-78), Oak Park, IL.
With steeply pitched roofs and flared eaves, the home is an example of Japanese influence on Wright's architecture after his 1905 trip there. The Peter A. Beachy House also exhibits this Eastern style.

Hills-DeCaro House exterior detail of roof and eaves.
A restored ticket booth from 1893 World's Columbian Exposition graces the home's side yard.
All photos credit: Bill Bowen © 2014.
All Wright Walk 2014: Isabel Roberts House (1908)
This past May, Design and Desire in the Twentieth Century celebrated our fourth anniversary by going on the road to attend the Frank Lloyd Wright Trusts' All Wright 2014 house walk and fundraiser.
The Trust is also celebrating an important anniversary (although much more significant than ours), the 125th anniversary of Frank Lloyd Wright's Home and Studio in Oak Park, Illinois. To mark this occasion, this year's house walk features all Frank Lloyd Wright designed homes — including one home seldom open to the public, the Isabel Roberts House in neighboring River Forest.
Early in her career Isabel Roberts worked as a draftsman in Wright's Oak Studio. According to the brochure that accompanied the All Wright Walk, Wright designed the structure a home for Miss Roberts, her mother and an unmarried sister. Miss Roberts later moved to Florida and established her own architectural firm there.
In 1927 new owners made changes to the home's exterior. They hired as the project's architect, William Drummond whose own home can be seen in the background of this photo.
The home changed owners again and in 1955 the current owners "persuaded Wright himself to remodel the interior."1 Wright updated the flooring and woodwork and added a dramatic stepped ceiling consistent with the style of the interiors of architect's 1950s Usonian buildings.

Left Frank Lloyd Wright, Isabel Roberts House (1908), River Forest, IL.
Right: William E. Drummond House (1909)



Frank Lloyd Wright, Isabel Roberts House (1908), River Forest, IL.


All photos credit: Bill Bowen © 2014.
Reference
1. Frank Lloyd Wright Trust, (2014). All Wright Walk [Brochure].
Ludwig Bemelmans's Madeline Turns 75!
It has been seventy-five years since illustrator Ludwig Bemelmans, children's book Madeline was published. The series of books follows the adventures of a mischievous Parisian schoolgirl and has been favorite reading for several generations of readers, this writer included.
To celebrate Madeline's seventy-fifth birthday, The New York Historical Society Museum and library in New York City is exhibiting many of Bemelmans's original illustrations created for Madeline along with drawings of the old Ritz Hotel in New York and murals from a Paris bistro. The exhibition, "Madeline in New York: The Art of Ludwig Bemelmans" runs now through October 13, 2014.

Ludwig Bemelmans, Cover Illustration for Madeline (1939).
Image source.
In addition to his children's books, Ludwig Bemelmans created cover illustrations for the leading American magazines of the Twentieth Century, designed sets for a Broadway play and is renowned for his murals in The Carlyle Hotel in New York.
For more on Ludwig Bemelmans and Madeline visit the Madeline Wed site.
Mary Blair, the Disney Artist You've Probably Never Heard Of
The Huffington Post recently ran an article on Disney art director, Mary Blair, whose most recognizable contribution to Disney is the design of the "It's a Small World" ride. One of her concept illustrations is shown below.
Blair's background in modern art and watercolors influenced her work on such productions as "Peter Pan," "Cinderella," and "Alice in Wonderland." Disney's animated productions during the mid-Twentieth century all bear her influence.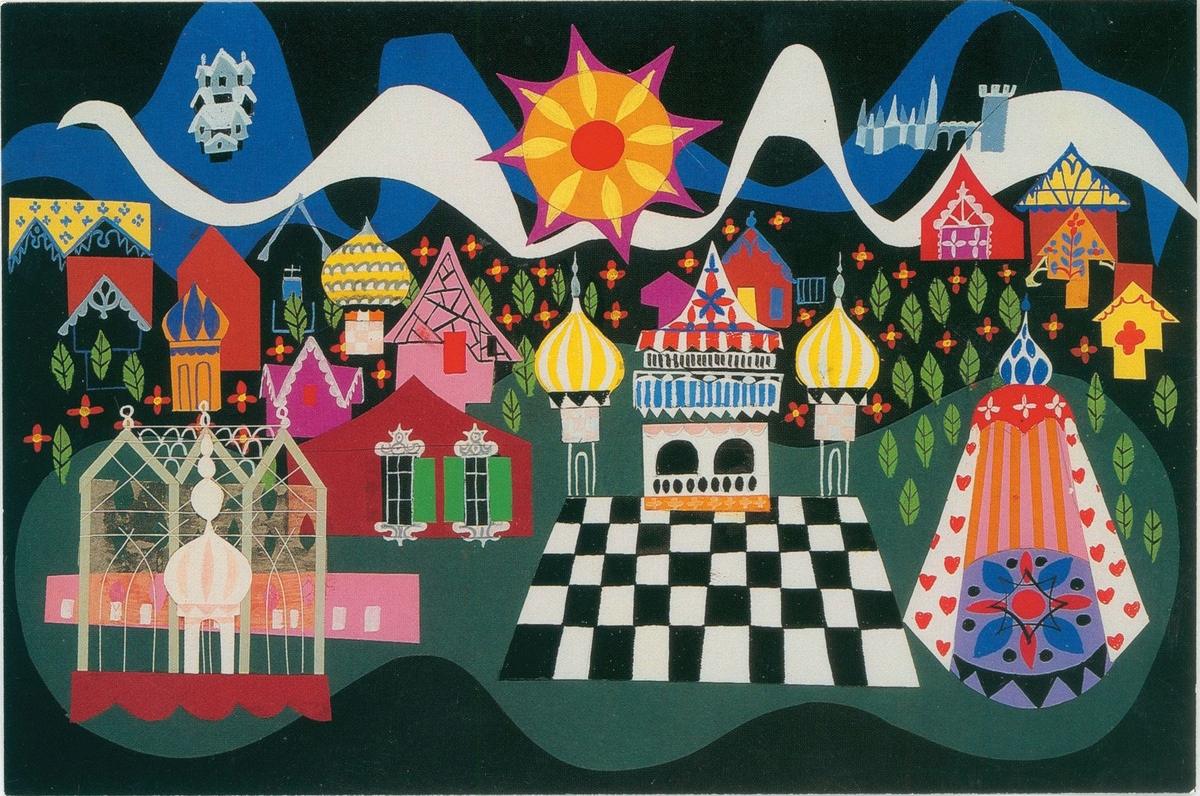 Mary Blair, It's a Small World concept art (ca. 1966) ; Walt Disney Family Foundation; © Disney
Image Source
A retrospective "Magic, Color and Flair: the World of Mary Blair" is on view now through September 7, 2014 at the Disney Family Museum in San Francisco, CA.
For more on Mary Blair read the article on Huffington Post and visit the Disney Family Museum Web site,
Hans J. Wegner: Shell Chair, 1963

Hans J. Wegner, Shell Chair (1963).
Source.
While teak was Hans Wegner's medium of choice, he did execute a few chair designs in bent plywood. His 1963 Shell Chair, also popularly referred to as "The Smiling Chair" is perhaps his most stunning bent plywood design.1
The Shell Chair was originally produced in a limited run in 1963, but never really took off. The design was shelved until 1997 when the chair saw a resurgence in popularity and remains in production today.2 
References
Design Within Reach, (2014). Shell Chair: Product Information. http://www.dwr.com/product/shell-chair-walnut-leather-thor.do
Hive, (2014). Ch07 Lounge Chair. http://hivemodern.com/pages/product5/carl-hansen-hans-wegner-ch07-lounge-chair
Hans J. Wegner: Ox Chair, 1960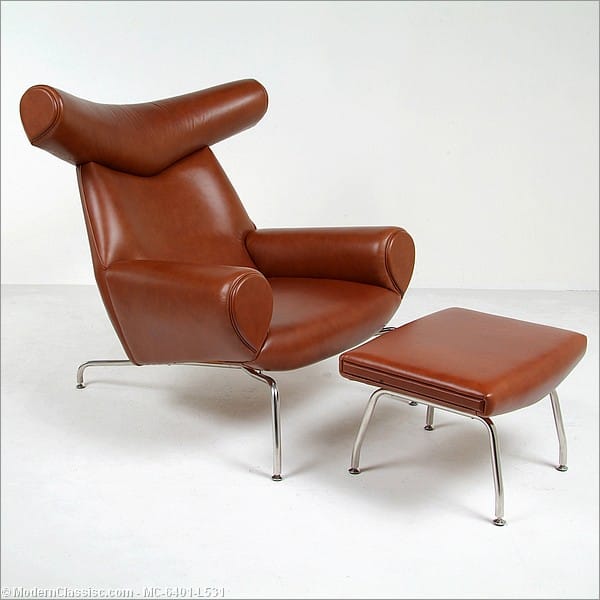 Hans J. Wenger, Ox Chair (1960).
Source.
Danish Designer Hans Wegner was admired the work of Pablo Picasso and drew inspiration for his Ox Chair from Picasso's surrealist paintings of the 1930s. Like Wegner's Shell Chair which was introduced in the early 1960s, the chair was not successful upon it's first introduction. The chair, considered too difficult to manufacture during the period, was pulled from production.
In the mid-1980s, furniture-making technology had advanced to the point where the Ox Chair could be produced at a reasonable cost. The chair was reintroduced to the market in 1985 and remains popular today.

Hans J. Wenger, sitting in his Ox Chair (circa 1960). Photographer unknown.
Source.
Reference
Danish Design Store, (2014). Wegner Ox Chair. http://www.danishdesignstore.com/products/wegner-ox-chair-by-erik-jorgensen-designer-hans-j-wegner
Hans J. Wegner: The Round Chair, 1950

Hans J. Wegner, Round Chair (1950).
Source.
Unlike Hans Wegner's earlier works, The Wishbone Chair (1949) and the Peacock Chair (1947), the Round Chair did not draw as directly from past furniture types. The Round chair, or "Round One" as Wegner always referred to it, was uniquely modern and uniquely Danish.
Most Americans' introduction to the Round Chair occurred during the televised Kennedy/Nixon Debates in 1960. According to the chair's manufacturer, PP Møbler the piece "was chosen mainly for its comfort and genuine quality." After the debates Americans began to refer to the Round Chair as simply "The Chair."

Senator John F. Kennedy sitting in Wegner's Round Chair while preparing for a debate against Richard M. Nixon, 1960.
Source
Hans J. Wegner: Peacock Chair, 1947

Hans J. Wegner, Peacock Chair (1947).
Source.
The Peacock Chair got its name from Danish architect and designer Finn Juhl whose first impression upon seeing the design was that the chair's flat back slats looked like a peacock's plumage.1
The shape of the chair is also reminiscent of British and early American Windsor Chairs.2

Windsor Armchair (ca. 1700).
Source.
Reference
1, 2.  P.P. Møbler. The Peacock Chair, 1947.  http://www.pp.dk/index.php?page=collection&cat=2&id=35
Hans J. Wegner: Wishbone Chair, 1949
Hans J. Wegner, Wishbone Chair with cane seat (1949).
Source.
Danish furniture designer Hans J. Wegner's Wishbone Chair was one of a series of chair designs inspired by Chinese court chairs from the Ming Dynasty (1368-1644).1 The Wishbone Chairwas one of the last of the "China" series and perhaps Wegner's most famous chair design.
Wegner's inspiration for the Wishbone Chair:


Ming Dynasty Chair (ca. 1368-1644)
Source
According to the Carl Hansen & Søn Web site:
Despite the chair's straightforward appearance it takes more than 100 steps to make one. Amongst other things, the hand-woven seat consists of more than 120 meters of paper cord.
They should know. Wegner designed the Wishbone Chair for Carl Hansen & Søn in 1949, and the firm has been continuously manufacturing the chair since that time.
Reference
1.  Carl Hansen & Søn, (n.d).  Hans J. Wegner. http://www.carlhansen.com/designers/hans-j-wegner/