Comfort Image: Ben's Chili Bowl at Night

Michael Horsely, Ben's Chili Bowl (circa 1970).
Source: http://farm3.staticflickr.com/2842/9564904803_e0cc30e4ba_z.jpg 
Chances are the weather's getting colder where you are, and you're in the mood for some comfort food. How about a hot bowl of chili or a chili burger?
Design and Desire is sharing a terrific photograph by Michael Horsely of American National Standard of Ben's Chili Bowl in Baltimore, MD. They just don't design take-out joints like this anymore.
Palace Builders: Great Architect from the Golden Age of Theatres
Since we here at Design and Desire in the Twentieth Century are huge classic cinema fans, we'd give anything to have the opportunity to visit the current exhibition at the Sheldon Art Galleries' Bernoudy Gallery of Architecture in St. Louis, MO.  According to the gallery's Web site:
The exhibit was co-curated by the Theatre Historical Society of America and made possible By Mary Strauss. The show runs now through Janurary 25, 2014.
The Ambassador Theatre, St. Louis (1926-1997), architects: Rapp and Rapp, Chicago. Photograph courtesy of the Theatre Historical Society, www.historictheatres.org
Source: http://www.thesheldon.org/galleries/images/2013/300_ambassadortheatre.jpg
Silly Saturday: Zippy the Pinhead in Guernica
Here, Bill Griffith's Zippy the Pinhead ponders Pablo Picasso's masterpiece Guernica. No, Zippy, there's no Barbara Stanwyck anywhere — especially in Picasso's depiction of civil war.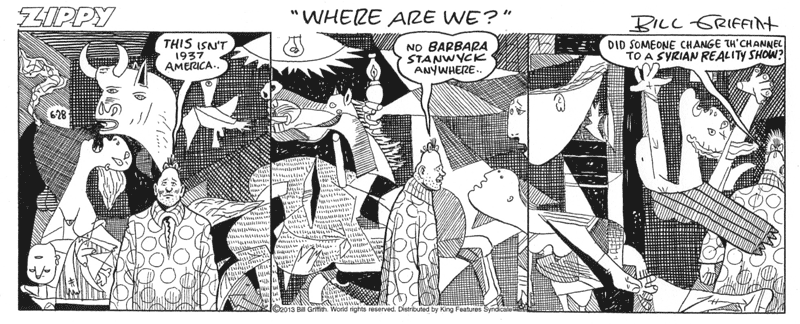 Griffith Bill, "Where Are We?" Zippy the Pinhead Comic Strip (6.28.2013)
Source: http://zippythepinhead.com/Merchant2/graphics/00000001/2013/images/062813.gif
When The World Was Flat
There is an old saying, "Everything old is new again." Designer Erik Spiekermann drives home this point in a recent blog post that features work his design firm created for Apple in 1992. The artwork is all flat color — sans gradients or shadows — and it looks as fresh and great as it did over twenty years ago!
Check out the complete 1992 Mac OS system design on Speikerblog.
Erik Spiekermann. Mac OS logo on OS 7.x start up screen (1992).
Source: http://upload.wikimedia.org/wikipedia/en/6/62/Mac_os_8_splash_screen.png
Scoville Square, Oak Park
Design and Desire in the Twentieth Century takes another visit to Oak Park, Illinois; this time, courtesy of our friends in Chicagoland, Designslinger. While Oak Park is best known for its many Frank Lloyd Wright's Prairie masterpieces, the town is also home to a great amount of interesting architecture built by others. 
Scoville Square, designed by architect E. E. Roberts, is one such example, that was the topic of a recent post on Designslinger. According to the blog, through much of its history, the building was home to Wm. Y. Gilmore & Sons store. The store closed its doors in 1976, and the building sat unoccupied until 1979 when it was purchased by a developer. The structure was then restored by architect John Vinci, renamed Scoville Square and opened to the public in 1982.
Read more about Scoville Square and its fascinating history on Designslinger.

E.E. Roberts, Scoville Square (1906-09), Oak Park, IL. Photo credit: Designslinger, copyright 2013.a
Source: http://i307.photobucket.com/albums/nn281/SallyGreene2008/02SallyGreenAlbum/03SallyGreenAlbum/UZY20000000008-2.jpg 
Dior Goes Hollywood
This past spring Harrod's Department Store in London held "Dior at Harrods," an exhibition of Christian Dior fashions worn by Hollywood actresses and other noted celebrities. The exhibit featured fashions designed in the 1950s by Christian Dior himself as well as more recent designs by House of Dior that were worn by the late Princess Diana and actresses Julianne Moore and Natalie Portman.
Thank you very much to Clothes on Film for originally posting information about the show. You can read details and view more photos by Jennifer Lunn on the Clothes on Film blog.
Read more about Christian Dior's life and work.
Margot Fonteyn's Dior suit and Elizabeth Taylor's dress worn for the 1961 Academy Awards. Photo credit: Jennifer Lunn.
Source: http://clothesonfilm.com/wp-content/uploads/2013/05/Dior-at-Harrods_Margot-Fonteyn-grey-suit-and-Elizabeth-Taylor-dress-1961-Oscars-Butterfield-8_Image-credit-Jennifer-Lunn-001.jpg
RNB2KFHWK9JN
Silly Saturday: Evil Disney Princesses
What if the unthinkable happened? What if the Disney princesses turned evil? Recently Quenton Narcisse of Mashable.com posted a gallery of images - "Twisted Disney Princesses" - created by character designer and story artist Jeffery Thomas.  "Alice in Wonderland" is pictured below and you can see the entire gallery on mashable.com.
Jeffrey Thomas, Alice in Wonderland (2013). 
Source:  http://rack.0.mshcdn.com/media/ZgkyMDEzLzA4LzEzLzU1L3R3aXN0ZWRwcmluLjU2Y2ZmLmpwZwpwCXRodW1iCTg1MHg1OTA-CmUJanBn/055fda72/63b/twistedprincess_alice.jpg
Frank Lloyd Wright's A.D. German Warehouse Has a New Owner
There's great news out of Richland Center, Wisconsin for Frank Lloyd Wright enthusiasts. The Frank Lloyd Wright Building Conservancy's Web site (savewright.org) reports that Wright's A.D. German Warehouse (1916-1921) has recently been purchased by a local resident. According to the Building Conservancy's Web site:
The property was purchased from the estate of Harvey Glanzer and closed on August 15. The buyer wishes to remain anonymous and did not wish to disclose the amount of the sale. 
The site further states that the new owner is currently working with local organizations for future plans for the building and its adaptive reuse.
Read the entire press release on savewright.org.
Frank Lloyd Wright, A.D. German Warehouse (1916-1921), Richland Center, Wisconsin.
Source: http://www.savewright.org/index.php?t=news_focus&story_id=105 
Stephanie McMillan, Harry Potter Films Set Decorator, Dies
According to a recent article in the New York Times Online, Academy Award-winning set-decorator Stephanie McMillan died on August 19, 2013 at her home in England. While Ms. McMillan won an Oscar in 1996 for her work on "The English Patient," she is probably best known for being the designer who defined the look of Hogwarts Academy in the Harry Potter film series. She worked on the Potter series with production designer Stuart Craig. 
Among the many films on which Ms McMillan served as set designer were: "Give My Regards to Broad Street" (1984), "A Fish Called Wanda" (1988), "Shadowlands" (1993) and "Notting Hill" (1999).
Scene from 'Harry Potter and the Sorcerer's Stone" (2001). Copyright Warner Brothers.
Source: http://tredreacl.com/HPotter/classroom.jpg
Los Angeles's Endangered Modernist Homes
Newsweek Online recently posted an article by Andrew Romano. "Trading Modernist for McMansion." In this article Romano reports that many of Los Angeles's important modernist homes are threatened by the new boom in the city's residential real estate market along with the current rage among more affluent homebuyers for "megamansions." Romano cites Greta Magnusson Grossman's 1949 Backus House (pictured here) as a prime example.  
Also according to the Newsweek article, J.R. Davidson's Kingsley House sold this past spring for $360,000 over the asking price and is the process of being demolished by its current owners.

Greta Magnusson Grossman, Backus House (1949). Photographer unknown.
Source: http://2.bp.blogspot.com/-jEDtKSL91pc/UFCqDc5YPWI/AAAAAAAAGek/b4pooYCFcOc/s640/Grossman+Backus.jpg
Read the entire article on Newsweek.
Visit the Los Angeles Conservancy Web site for more information on endangered modernist residences in Los Angeles.
Editor's note: A thank you goes out to Rago Auction for sharing a link to this article on their Facebook page.