New Hampshire's Palace Theatre
Leon Lempert & Son (architects), Palace Theatre. Manchester, New Hampshire (1915).
Source: http://www.wegoplaces.com/User%20Interface/Images/Itinerary%20Item%20Images
/USA/NH/Manchester/48773_Palace%20Theatre.jpg
The newest addition to our blog roll, The Daily Kylie, posted an article about a recent visit to The Palace Theatre in Manchester, New Hampshire. Built in 1914-1915 by Greek immigrant Victor Charas, and designed by Leon Lempert and Sons, the Palace is a glorious example of one of the early extravagant movie palaces. "Fashioned after its namesake in New York City," according to the Theatre's web site, "the Palace Theatre was (and still remains) remarkably similar to its larger cousin."
Please enjoy The Daily Kylie's visit to the Palace.
Silly Saturday: "Bad Dog" Leaves His Mark

Richard Jackson, Bad Dog (2013).
Source: http://www.architizer.com/blog/wp-content/uploads/2013/02/85.jpg
It seems that everyone's a critic, but Califoria artist Richard Jackson really makes his point — or should we say the pointer makes a point. The larger than life dog is part of a retrospective of the artist's career, "Richard Jackson: Ain't Painting a Pain" on now through May 5, 2103 at the Orange County Museum of Art (OCMA) in Newport Beach, California. And yes, according to Architizer Blog, the sculpture is programmed to periodically discharge yellow paint on the museum's facade.
Glam! The Performance of Style
By now you've probably heard the hype about David Bowie's new album, The Next Day, his first release in over ten years, but did you also know that his Glam Rock style form the late 1960s and 1970s is the subject of an exhibition at Tate Liverpool in the UK? Glam! The Performance of Style looks at Bowie's impact upon the fashion, Rock and art scene of that period.
The show includes works by photographers Mick Rock, Terry O'Neill, Cindy Sherman and artists David Hockney, Allen Jones and Ray Johnson among others. Glam! the Performance of Style examines Glam influence upon Bowie's contemporaries such as Roxy Music. The importance of Bowie's connection with Andy Warhol and its relationship to Glam style is also explored. 
Glam! The Performance of Style runs at Tate Liverpool (Albert Dock, Liverpool, UK) through May 12.
Read a review of the show on Hyperallergic.
Bowie items at Glam! the Performance of Style exhibition, Tate Liverpool (2013). photo credit: Mark Sheerin.
Silly Saturday: Marilyn Peep Show
Since Easter is coming, we're reblogging a post form earlier this year that illustrates some creative uses for eveyone's favorite Easter candy, Peeps® marshmallow candies.
Happy Easter! And for those of you who don't celebrate Easter, Happy Spring!

Karyn Zupke, Marilyn Monroe (n.d.). Copyright 2012 PeepTopia!
Source: http://peeptopia.tumblr.com/post/37730474739/marilyn-monroe
Apologies for the rather misleading headline, but we just couldn't resist. If you look closely at the image posted here, you can see that the Andy Warhol inspired portrait of actress Marilyn Monroe is made of Peeps® marshmallow candies. How Sweet it is!
Visit PeepTopia to view more Peeps® masterpieces.
Frank Lloyd Wright's Home Movies
Beret Balestrieri Kohn writes in the Milwaukee Museum of Art's blog "Under the Wings" about a recent donation to the institution's archives of films from the personal collection of Joan Salzstein, the grandaughter of architect Dagmar Adler. The donated films features candid shots of Frank Lloyd Wright interacting with students and visitors at Taliesin his home in Wisconsin.

According to Kohn, "Wright worked for and studied under Adler, and his granddaughter Joan became a regular visitor to Wright's home and farm at Taliesin in Spring Green, Wisconsin for many years. During those visits, she captured the atmosphere of daily life at Taliesin on film."
Read the entire blog post and see more interesting stills.

Frank Lloyd Wright and Olgivanna Wright in the garden, late 1930s-early 1940s. Photo credit: Still from a film from the personal collection of Joan Salzstein. Milwaukee Art Museum, Institutional Archives.
Source:  http://milwaukeeartmuseum.files.wordpress.com/2013/01/color_flw_008.jpg?w=640
The Whimsical Work of Matte Stephens
Although he wasn't yet alive in the 1950s, illustrator Matte Stephens' work recaptures the spirit of mid-century designers such as Charles and Ray Eames, Alexander Girard, and Irving Harper. Stephens has done work for IBM, Disney, American Express and Herman Miller among others.
Thanks to our friends at Aqua-Velvet for introducing us to the work of this brilliant young artist.
Read grain edit's recent interview with Stephens.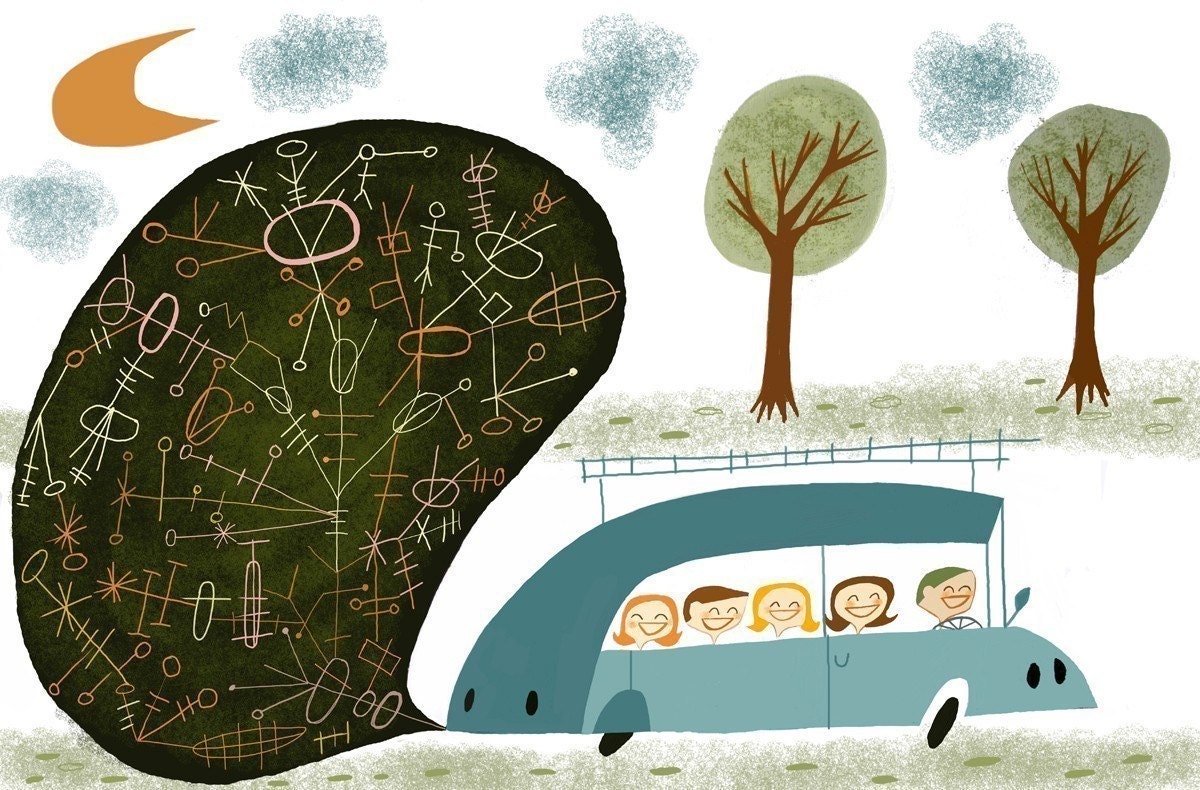 Matte Stephens, Family Vacation (2012).
Source: http://img1.etsystatic.com/000/0/5152542/il_570xN.63514501.jpg
Getting There: How Design Influences Travel

Arthur Radebaugh, Advertisement for Bohn Aluminum and Brass Corporation (circa 1940s).
Source: http://designmuseumboston.org/images/exhibits/gettingthere/gallery/gettingthere_gal-10.jpghttp://photo-muse.blogspot.com/
"Getting There: How Design Influences Travel" is an exhibition organized by the Design Museum of Boston and aptly located in Terminal E of Boston's Logan Airport; the show explores the influence of design on the travel industry.
According to the Design Museum of Boston Web site the exhibition features "Drawings, models, and prototypes from design firms such as Bose, Samsonite, Teague, Two Twelve, and IDEO, … projects that have creatively addressed design challenges posed by the constraints of human travel."
The show is ongoing and free to the public.
Photographer Gabriele Basilico (1944-2013)
"Monuments embarrass me. I have no friendship for castles." -Gabriele Basilico
Last month The Guardian reported the death of documentary photographer Gabriele Basilico. Trained as an architect, Basilico gained international attention for his photographs of factory buildings and apartment blocks. In the 1990's the photographer captured the bleak landscapes of Berlin after the fall of the Wall, and Beruit, Lebanon.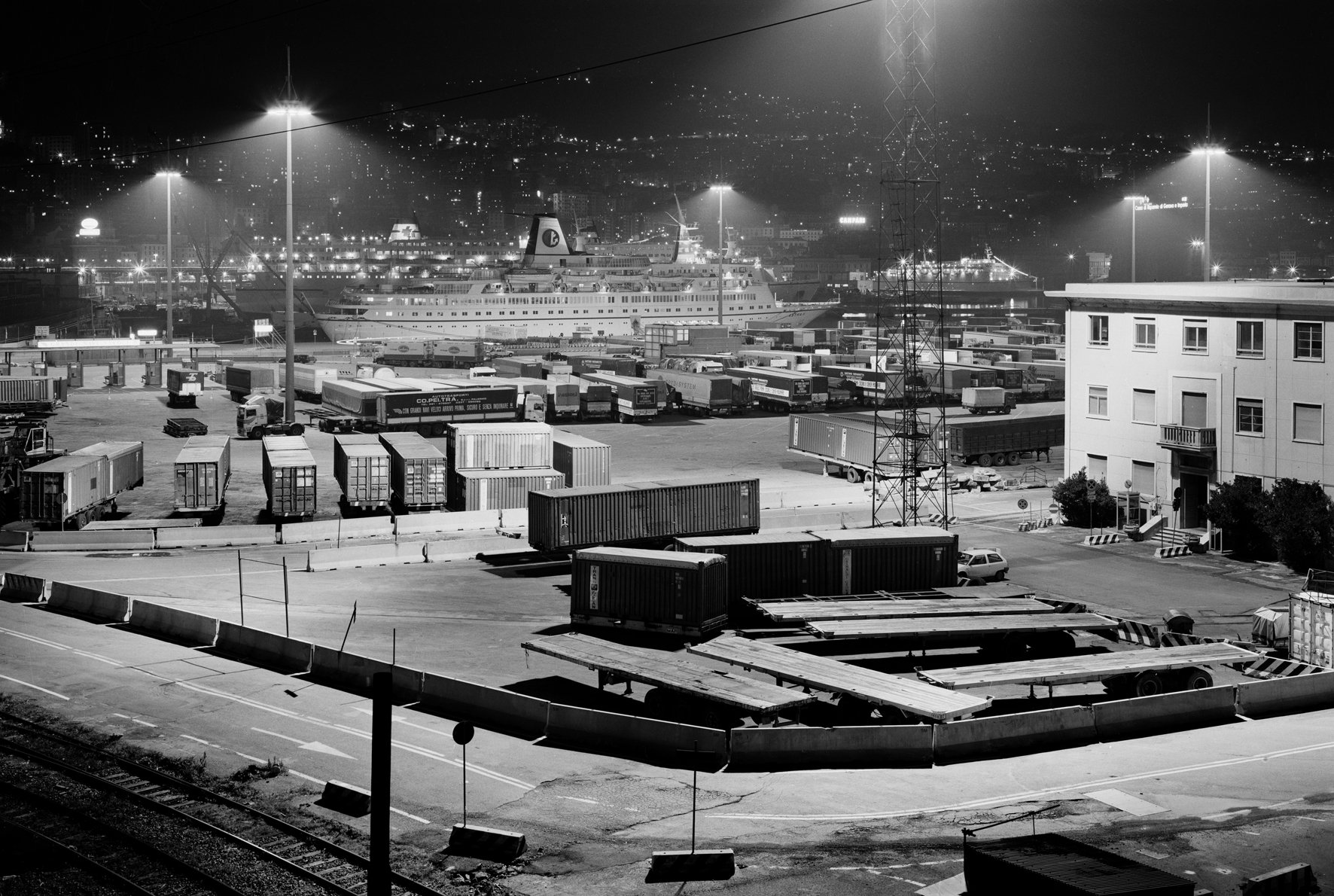 Gabriele Basilico, Genoa, (1997).
Source: http://www.artribune.com/wp-content/uploads/2011/04/Gabriele-Basilico-Genova-1997-Courtesy-Gabriele-Basilico-and-Photo-Co.-Turin-Italy.jpg