Silly Saturday: The Truth About Hello Kitty & Other Popular Animated Charaters
Originally introduced in 1974 by the Japanese toy company Sanrio1, Hello Kitty has burgeoned from a cute whimsical graphic to an international marketing powerhouse. Hello Kitty has just celebrated its 40th anniversary and now adorns everything from pencil cases to automatic weapons.
New Yorker contributor, Colin Stokes has some fun investigating the identities of Hello Kitty a few other animated characters you may recognize.  Here's part of Stokes' take on Mickey Mouse:
Mickey Mouse is not a mouse. If you look very closely at him, you can see that he wears gloves. Mice do not have the capability, nor the desire, to put gloves on their hands.

Open kitchen at first "Hello Kitty" licensed restaurant in Asia.
Photo credit: ©2014 Nicole Pang/CNN Source
Reference
1. Del Barco, M. "Hello Kitty Hooks Generations On Cute, Kitsch". National Public Radio. 2010-12-03.http://www.npr.org/2010/12/03/131755914/hello-kitty-hooks-generations-on-cute-kitsch
Sculpture for the Body: The Work of Art Smith
The Dallas Museum of Art is currently running an exhibit of sculptural jewelry by Twentieth Century jewelry design pioneer Art Smith. The show features Smith's work along with several of his contemporaries, artists who were influenced by the biomorphic forms employed by sculptors such as Isamu Noguchi and Alexander Calder.

Art Smith, Modern Cuff (c. 1948).
Photo (right): Peter Bausch (c. 1948) © Brooklyn Museum. Source.
According to Uncreated, the Dallas Museum of Art's blog, The DMA "this year we will not only feature the work of Art Smith but also, … make plans for future exhibitions of jewelry and other design arts."
The exhibition, From the Village to Vogue: The Modernist Jewelry of Art Smith runs now through December 7, 2014 at the Dallas Museum of Art in Dallas, Texas.
Albert Paley: Swirls of Steel
The Corcoran Gallery of Art's Web site calls Albert Paley, "one of the world's most distinguished metalsmiths." During his more than 50 year career Paley has worked at all scales from jewelry to large public installations and in a varied range of metals: steel, brass, iron, copper, gold to name a few.1
Paley's public installations include the gateway at the St. Louis Zoo, portals at the New York State Senate in Albany, doors to the book store at the Smithsonian's Renwick Gallery, and a gate at the National Cathedral in Washington, DC.2
In 1995, Paley was awarded awarded the Lifetime Achievement Award from the
American Institute of Architects
, the AIA's highest award to a non-architect. He is the only metalsmith to have received that award.
1
A retrospective of Albert Paley's work, "American Metal: The Art of Albert Paley" can been viewed now through September 28, 2014 at The Corcoran Gallery of Art in Washington, DC.
For more on the artist and his work visit the Albert Paley Studios site.

Albert Paley, Pendant (1973), silver, ivory, plexiglas, copper, gold, amethyst beads, glass lens, opal, moonstone and amethyst crystal.
Photo credit: © 2014 Paley Studios Source
References
Corcoran Gallery of Art (2014). American Metal: The Art of Albert Paley, http://www.corcoran.org/exhibitions/american-metal-art-albert-paley
National Public Radio (2014). With Swirls Of Steel, These Sculptures Mark The Passage Of People And Time, http://www.npr.org/2014/07/22/333596118/with-swirls-of-steel-these-sculptures-mark-the-passage-of-people-and-time
A Short History of Electric Cars
With ever-rising gas prices and greater concerns about our environment, electric and hy-brid motor vehicles are gaining popularity. We may think of these automobiles as a recent development but, earlier this year, Design News posted an interesting slideshow of the history of electric cars which were designed in the late Nineteenth Century and throughout the Twentieth.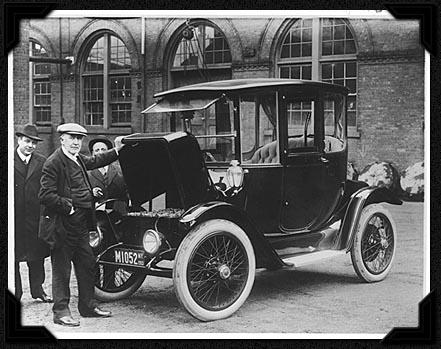 Thomas Edison (left) and an electric automobile that used one of his nickel-iron batteries (c. 1910). Source.
Pictured here we see that even American inventor Thomas Edison had designed a version of an electric car. In a 1911 interview with the New York Times, Edison stated that the vehicle's battery "is simple, light, easy to take care of, and far more efficient than the old lead battery. It has none of the disadvantages of the latter, which resulted in bringing electric transportation into such disfavor abroad."
Closed for 25 Years Staten Island's Paramount Theatre Survives
Nick Carr of ScoutingNY.com takes a fascinatingly beautiful, yet eerie photo tour of Staten Island's Paramount Theatre. According to Carr, the Paramount, which opened in 1930, was Staten Island's most elaborate movie theater and even served at one time as a nightclub and concert venue for many of New York City's rock bands. The building, however, has been closed and has sat vacant for the past twenty-five years.
Several years ago, investors had planned to reopen the Paramount as a restaurant and performance center, but the plans were not realized,
Thanks go out to Kevin Lee Allen and Kathleen McDonough for sharing the ScoutingNY.com post on their Facebook pages. By the way, check out their blog; it's pretty cool.
Paramount Theatre, (c. 1930), architect unknown.
Photo credit: Nick Carr, ScoutingNY.com © 2014 Source
Silly Saturday: Patron Saints of Graphic Design
Editor's Note: This article was originally posted on November 12, 2011.
Slightly blasphemous but nonetheless amusing are W. Lynn Garrett's Patron Saints of Graphic Design. As a survivor of both Catholic school and art school, I hope these "saints" are watching out for me.
Thanks to Jacob Cass of Just Creative Design for sharing.
W. Lynn Garrett, Saint Typo (2003).
Source: http://images4.cpcache.com/nocache/product/11119214v2147483647_150x150_Front.jpg
All Wright Walk 2014: Unity Temple (1905)
Frank Lloyd Wright's Unity Temple was the only Wright designed building included on the 2014 All Wright House Walk that was not a house, unless you consider the structure as a house of worship.

Frank Lloyd Wright, Unity Temple (1905-1908), Oak Park, IL.
Unity Temple, perhaps one of Wright's finest works, was named a National Historic Landmark in 1970.1

Unity Temple, motto (exterior detail).
According to the brochure that accompanied the All Wright 2014 tour, there are more than one hundred art glass windows within the building; a fine example is shown here

Unity Temple, art glass inset (exterior detail).
The columns of Unity Temple's facade features a hollyhock motif one of Wright's recurring designs, used in several of his buildings from this the period.
Unity Temple, balastrade on the front facade (exterior detail).

A dramatic view of the exterior of Unity Temple at night.
For more information on Unity Temple visit the Unity Temple Restoration Foundation Web site.
All photos credit: Bill Bowen © 2014.
Reference
1. Frank Lloyd Wright Trust, (2014). All Wright Walk [Brochure].