Updating Mies's Martin Luther King, Jr. Library
Ludwig Mies van der Rohe's Martin Luther King, Jr. Library in Washington, DC is slated for a major renovation and modernization project. According to the DC Library Web site, the architectural firms of Martinez + Johnson Architecture and Mecannoo have been selected to design the project.
An article on the Washington Post Web site discusses the challenges facing the rennovation: "how to update it for more contemporary library functions while respecting the essentials of Mies's architectural vocabulary, and how to expand it for other uses — possibly residential or office space." Essentially, can Mies' minimalist modernist design survive a post-modern overhaul?
Read about the architect selection process on DCLibrary.org.

Ludwig Mies van der Rohe, Martin Luther King, Jr. Library (1972), Washington, DC.
Source
Possible New Life for Julia Morgan's Pasadena YWCA
Very interesting news has come to us via Pasadena Weekly. California architect, Julia Morgan's 1921 YWCA Building in Pasadena, CA is under consideration for adaptive reuse. According to the article on the Pasadena Weekly Web site, "[T]he Pasadena City Council reviewed development plans for the long-vacant YWCA building, which is expected to be converted into a boutique hotel."
The structure, vacant since 1997, is listed on the National Register of Historic Places.
Read the article on Pasadena Weekly.
Read more on architect Julia Morgan.
Julia Morgan, Pasadena YWCA Building (1921). Photographer unknown.
Opening Day
Editor's Note: This article was originally posted on March 31, 2011.
Since today is Major League Baseball's Opening Day, we thought we'd celebrate by sharing designer Mark Lamster's experience as a baseball card collector, orignally posted on Design Observer. One of Lamster's favorites is a 1972 Roberto Clemente card. What's one of yours? Send us a link, and we'll post it here.
Left: 1951 Bowman baseball #162 Larry Jansen, New York Giants.
Source: Source
Right: 1933 Goudey Big League Baseball Rogers Hornsby.
Source:Source
Second Homes for Leisure Living
Today most of us can barely afford one home, but back in the prosperous days of the Twentieth Century many members of the rising middle class had expendable income to spend on "leisure homes." In a 2009 post, grain edit shared illustrations from a booklet published by the Douglas Fir Plywood Association entitled, "Second Homes for Leisure Living." he brochure is a collection of 16 mid century modern cabin plans by various architects including George Matsumoto, Frederick Liebhardt, David George and Henrik Bull.
View the in its entirety on the US National archives Web site.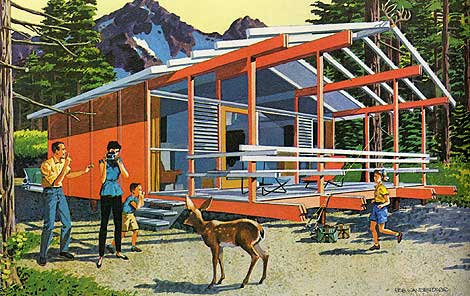 Walter Widmeyer, Two Stage Expandable Vacationer Home (1960).
Source
90 Years of Warner Brothers Logos
Since March is traditionally Oscars month, we're sharing an interesting article originally posted on the Fast Company Design blog which looks at the evolution of the iconic Warner Brothers logo from the 1920s to the present day.
Not only has the basic form of the initials "WB" encased in a shield changed over the decades, but according to Co.Design, "Filmmakers have always been encouraged to tailor it to suit the individual tone of their films."
Examples of iterations of the WB logo can be seen on Movie Title Stills Collection.

Warner Bros. Pictures Logo as depicted in Elia Kazan's America, America (1963).
Source
Art Deco Buildings in Greenbelt, Maryland
Our friend David Thompson of the Art Deco Buildings blog shared some terrific photos of his trip to Greenbelt, Maryland earlier this year. According to Thompson:
In 1936, Greenbelt … was built in Maryland between Washington DC and Baltimore. It was a bold experiment in co-operative living with all the town's businesses and even the newspaper co-cooperatively owned by the residents. The homogeneous houses and flats where built around a city center that included shops, a theater and an elementary school.
Read more about Greenbelt, Maryland on Art Deco Buildings, and also read Thompson's post on The Greenbelt Community Center.
For more on the community of Greenbelt, Maryland visit the city's Web site.

Greenbelt Theatre and Supermarket, Greenbelt, Maryland (1937).
Source
Silly Saturday: How Architects Sleep
Design and Desire found this image on Katie Umenthum's Architecture Humor Pinterest Board, which is a send-off of the universal communication symbols. Notice how architects sleep - if they get the opportunity - at the bottom of the graphic.
Visit Katie's Pinterest Board for more humorous and unusual images.
Unknown Artist. How Architects Sleep.
Source
Frank Lloyd Wright and the City: Density vs. Dispersal at MOMA
The Museum of Modern Art in New York City is currently running Frank Lloyd Wright and the City: Density vs. Dispersal, an exhibition that explores the architect's philosophy regarding the development of the American City during the period between the two World Wars. Wright's iconic large-scale model for "Broadacre City" is the centerpiece of the show, which features drawings, architectural models and films that were included in the recent joint acquisition of Frank Lloyd Wright's extensive archive by MoMA and Columbia University's Avery Architectural and Fine Arts Library.
For details visit MoMA's web site. The show runs now through June 1, 2014.
Frank Lloyd Wright. Drawings for Broadacre City Project, (1932).
Source